When it comes to finding stylish outfits for your maids, twobirds Bridesmaid continues to lead the way with their innovative dresses which allow your bridesmaids to choose the style that works best for them.
With the recent edition of three striking jewel-inspired colours – Magenta, Platinum and Regal Purple – we thought it would be the perfect opportunity to catch up with their UK director Michelle Hailey, to tell us a little bit more about the dresses and the inspiring women who established this company.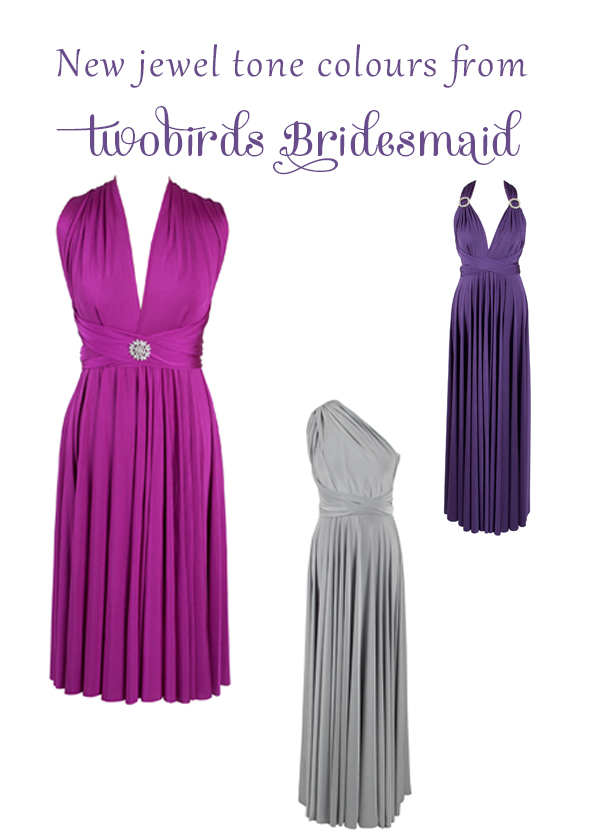 For anyone who hasn't come across twobirds before, what can brides-to-be (and their bridesmaids) expect from you?  
Twobirds Bridesmaid is completely different to any other bridesmaid brand as the dresses offer complete versatility with 15 different ways to tie them, meaning that they suit every body shape and can be worn again. They are also incredibly easy to fit with just two sizes available and no alterations required, ensuring a seamless and hassle-free experience when choosing your bridesmaid dresses. I think the fact that we are also a small company that girls can connect with directly also means a lot to brides and to us as we can keep our finger on the pulse of what's important to our brides.
The Classic collection is available in 20 catwalk inspired colours and three different lengths. The Rosette collection is available in seven colours and three lengths. Our Classic collection continues to be our bestseller and we've just launched three beautiful new colours this season – Platinum, Magenta and Regal Purple, which are proving to be hugely popular.
We have a flagship studio in London in addition to stockists throughout the UK and Ireland. Our dresses are made in the UK which allows us to offer flexibility with productions and shorter lead times on orders at just 10 weeks so brides don't need to worry about shipping costs and delays.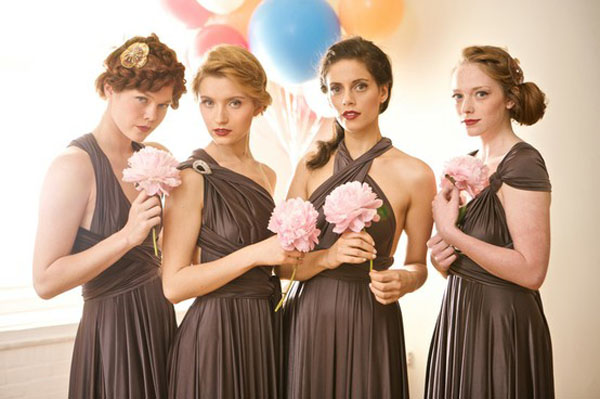 Where did the inspiration for twobirds come from?
Twobirds Bridesmaid was launched in 2007 by New Yorker Ariane Goldman who designed the dresses for her own wedding, having struggled to find a style that suited all of her bridesmaids. The ingenious 'convertible' design concept was inspired by a 1970's Norma Kamali 'Infinity' dress.
Is there a certain type of twobirds bride? 
The versatility of our dresses means that we don't have a set type of bride but our brides do all have a love of fashion and are looking for a contemporary style of bridesmaid dress, that's both timeless and beautiful.  They are often looking for a simple solution to a number of common challenges such as being time starved so not wanting to have fittings or alterations, having maids all over the world or pregnant maids; our dresses tackle all of these with such ease. The dresses are worn at every type of wedding from winter weddings in the city to summer weddings in the country. They are also the perfect solution for destination weddings as the dresses travel easily without creasing and the fabric keeps lovely and cool.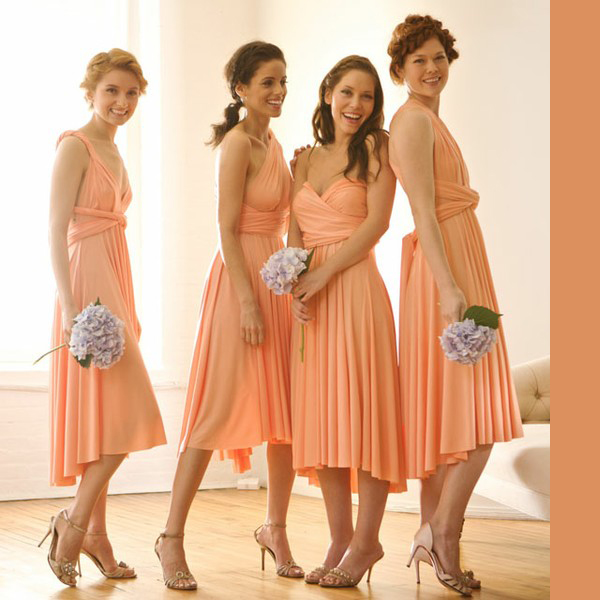 Which is your most popular colour dress?
Slate has always been our most popular colour as it's so versatile and suits every complexion. Rosewater, Navy and Aubergine are also really strong. This year we've seen Putty, Olive and Royal Blue coming through as strong contenders too. However, Platinum has been flying off the shelves since we launched the colour last month!
You've just introduced 3 new colours into your range – how do you decide which colours do offer?
Every year we evaluate our sales and look at the colours that are the bestsellers and those which have become less popular due to changing fashion and bridal trends. We closely monitor catwalk trends as the bridal world tends to follow suit and look to incorporate emerging colours into our collections.  The biggest thing is listening to our brides and suppliers and seeing if there are repeated requests for colours we don't currently provide. Brides are becoming more adventurous with their wedding colour schemes and we've seen a strong move towards the bolder, rich tones in recent months which has been reflected by our latest colour additions.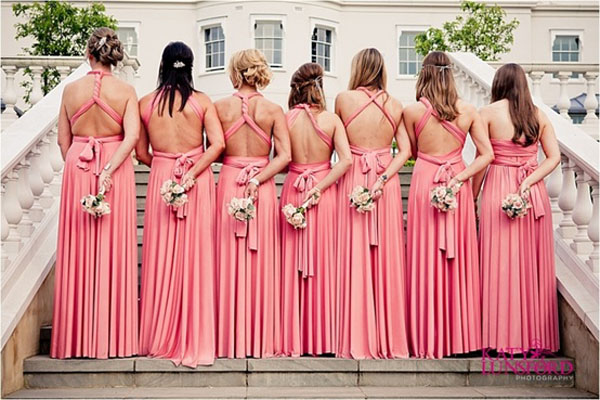 Image Credit: Katy Lunsford Photography
You recently launched a collaboration with the fabulous Rachel Simpson shoes.  Who else would you love to collaborate with and do you have any plans that you can share with us?
We are always looking to add to our collections and build new relationships with likeminded suppliers who fit with the twobirds Bridesmaid philosophy and products. Our collaboration with Rachel Simpson was a result of numerous requests for bridesmaid shoes from our brides and the Rachel Simpson brand has a natural synergy with twobirds Bridesmaid.  Our wish was to keep with the twobirds philosophy of having something versatile that you could wear again afterwards and I really think we've achieved that. We are currently reviewing partnerships for 2013 and beyond so watch this space!
What trends do you see coming up for bridesmaids dresses and weddings in general?
For many years the soft muted tones of the vintage look was huge within bridal and it was all that brides wanted. While there will always be room for vintage and it's a trend that we love, we are seeing a shift towards more contemporary wedding styles and bolder colour palettes for 2013. The trend for mix and match bridesmaids also looks set to continue into next year and beyond, with bridesmaids no longer wanting their bridesmaids to look identical which is where we come in!

How involved do you think bridesmaids should be in the choosing of their dresses?  
After the bride, the bridesmaids are the next in line to get a lot of attention on a wedding day so we feel that it's really important that bridesmaids look and feel beautiful. While the decision on style and colours ultimately comes down to the bride, if the bridesmaids don't feel comfortable they won't look their best on the day which may come across in the photos. The beauty of the twobirds Bridesmaid offering is that the same dress can be worn in 15 different ways, meaning that the bride gets to choose the colour and dress that she likes and the bridesmaids can wear it in the style that's most flattering for their individual shapes.
How can bridesmaids personalise and accessorise their look?
Our dresses look fabulous with accessories and we offer a choice of accessories in our flagship studio such as vintage inspired brooches, rosette corsages, hairpieces and of course shoes. For winter weddings, the dresses look stunning with fur stoles, jackets or pashminas.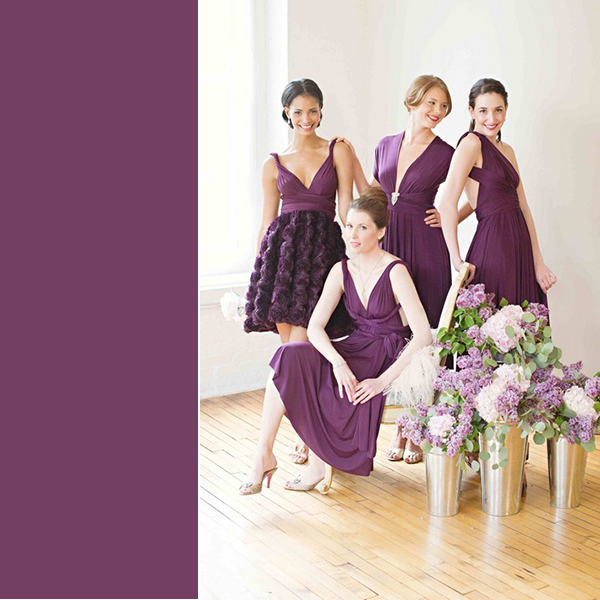 What advice would you offer to brides trying to style their bridesmaids on a budget?
We often suggest asking the bridesmaids to wear their own shoes, or contacting companies to see if they have any end of line jewellery stock or are holding any discount days, this is a great way of getting your bridesmaids lovely pieces at a fraction of the price. Alternatively why not attend a jewellery making workshop as part of your hen do, your hens will love getting creative and being involved with their own styling for the big day. Last but not least we always advise our brides to seriously consider the number of bridesmaids they can accommodate within their budget before asking them all, you can always add bridesmaids at a later date but it's not so easy to demote one of your best girls!
Tell us a bit about you – what are your passions and dreams?
I am passionate about making the most of life and achieving as much as I can day after day. I've never been a dreamer, I'm an incredible realist and love reacting to situations and making things happen. I never dreamed my life would take the turn it did when I got married and found twobirds as a dress for my maids. This led to me meeting Ariane, twobirds founder, and taking on the role of running her European operation, leaving the corporate banking world behind for what I hope is forever. It's been the most amazing rollercoaster two years so far and I'm so proud of what our little team has achieved and continues to do. We've built an amazing, real brand and some wonderful friendships.  I'm passionate about getting things right, making people feel happy and special both personally and professionally. For the future, for twobirds we'd love to continue to reach more brides in the UK and also bring this wonderful concept to more of Europe and Scandinavia. Personally, fingers crossed some baby birds in the not too distant future when we find the time!!
For more information the twobirds Bridesmaid website.
Image credits: twobirds Bridesmaids other than where indicated
Any brides out there going with twobirds Bridesmaid dresses for their maids?  I'd love to know what you all think of the new colours, I love this mood to bolder, richer shades.
Vicki xx
POSTED IN: Inspiration

TAGS: bridal Fashion, Bridesmaid Dresses, bridesmaid fashion, Bridesmaids, individual bridesmaid dresses, innovative bridesmaid dresses, inspiring women, jewel tone dresses, Michelle Hailey, Mismatched Bridesmaids, twobirds Bridesmaid, wedding fashion trends