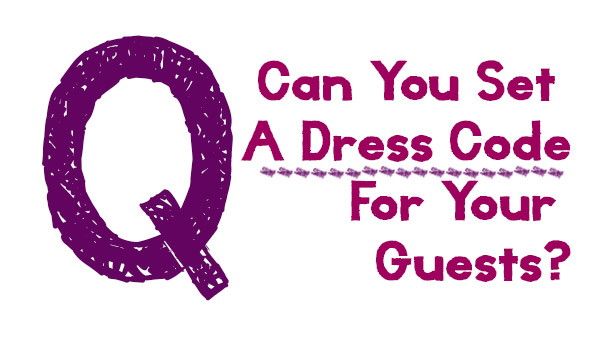 When you are carefully considering every aspect of your wedding day, it may be tempting to start trying to style your guests too.  And admittedly, if you are planning a full on Hollywood Glamour affair then having all your guests in black tie could be a beautiful and stylish touch.  But before you start prescribing that everyone attending your day can only wear items of clothing chosen from your colour palette, it's worth considering a few things…
Firstly, think about your guests.  We all know that attending weddings can be expensive affairs and if you start adding demanding dress requirements into the mix, where men may need to hire tuxedos or women need to hunt down an original flappers dress, you put incredible pressure onto your guests.  Yes, it is your wedding day but don't forget that you are sharing this day with your closest friends and family and do you really want to cause unnecessary stress for them?  After all, nobody wants to ruin your special day by not wearing the right thing.
It is also worth considering that if you do set a dress code, you are inevitably opening yourself up to various questions, requests and panics from your guests about what is suitable for them to wear.  For my wedding, we stated on our wedding invitations that the dress code would be "Seaside Chic.  No ties required".  We didn't intend this to be a strict code of what people should wear (we didn't actually care what people wore, as long as they were there and happy), rather an invitation for people to dress down, a little way to indicate to our guests that no traditional formalities were expected – or would be observed.  What we hadn't expected, is for anyone to start to panic about what "seaside chic" meant!  To us it was just a cute turn of phrase to reinforce the coastal location.  For all our guests, it was a direction to dress in a specific way that they didn't understand!  So it's important that if you do set a dress code that it is easy to interpret, or provide clear guidance to your guests.  And if you have no preference at all, learn from our mistakes and don't put anything!
Also remember that not everybody will follow a code if you do set one.  Practically all the men at our wedding wore ties, except for the groom!  And the more outlandish the code, the less likely people are to follow it.  If you have a very specific dress code and only half of your guests adhere to it, not only might that look a little odd in your photographs but it could well lead to some awkwardness and discomfort amongst your guests – the last thing that you want.  Remember these people are attending your wedding as your guests; they're not part of your wedding party and therefore what they choose to wear is really up to them!
We are big believers in couples doing what makes them happy on their wedding day so if you really want to set a dress code, then go for it!  Just remember that you want your guests to be as relaxed as possible to set the tone for a fabulous day; and very specific or outlandish outfit requests may not achieve that.  And be prepared to start fielding questions!
I'd love to know what you all think on this one: fabulous way to get people involved in your day or unnecessary stress for your wedding guests?  Leave a comment and let us know!
Vicki xx