As a bride, one of the biggest moments of your wedding day will undoubtedly be walking down the aisle to your soon-to-be husband.  But with more and more people choosing to have civil ceremonies in a variety of different venues, often the traditional concept of an "aisle" can be lost.  It may not be a clearly defined space within the room or your route to your man may not even be a straight path.
By adding decor elements to your ceremony space, you can clearly mark out your pathway, adding a real sense of occasion to your civil ceremony.  Even if you are getting married in a church or a venue with a clearly defined aisle, this is an opportunity to add some beautiful touches to your ceremony space (remember, your guests are likely to be sitting here for a little while before you arrive and steal everyone's attention).
Today therefore, we are looking at ideas and inspiration for how you can use natural decor elements to style your aisle…
FLORAL AISLE DECOR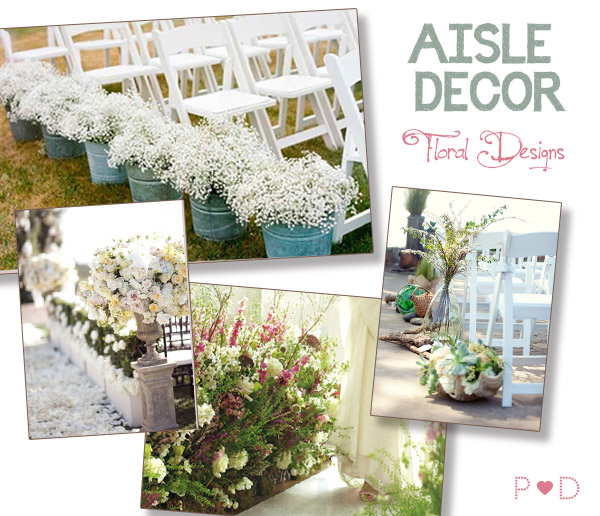 Image credits: 1. The Knot 2. Belle the Magazine 3. Style Me Pretty 4. Sandra Johnson Photography 
Pew ends for a church ceremony can make for a beautiful yet subtle addition and this concept can be easily adapted for a civil ceremony by attaching flowers to the end chair in a row.  Tie flowers directly to the chair with ribbon to complement your colour palette or use twine to hang jam or mason jars which can then be filled with pretty blooms.
If your ceremony chairs won't allow for this or you just fancy something a little more understated, loose flowers like lavender, casually strewn down the edges of your aisle would look simple but stunning.
The great thing about this concept is that you can tailor it to your own taste and wedding style.  For a more rustic feel, display blooms in galvanized buckets or for a country garden look, plant tall, crowded wildflowers into wooden crates to create the impression of the bride sauntering through a country meadow down to her groom.
For the ultimate in chic, pick one colour for your blooms – an array of all white flowers would look achingly elegant and perfect for a city chic wedding.
Alternatively, if your style is more eclectic in taste, ditch the uniform look and mix and match vessels and planters of varying height to add real interest.
And if subtle isn't your thing, let your imagine run wild with elaborate urns and plinths overflowing with breathtaking arrangements or even blossoming trees.  If you are looking for truly extravagant floral displays to style your aisle then you cannot beat the creative flair of By Appointment Only Design.    
Whichever look you go for, remember you don't want to completely obliterate your guests' view of you as you glide down your beautifully styled aisle, so ensure there is enough space between arrangements and that designs sit either above or below your guests' seated eyeline.
PRETTY PETAL AISLE DECOR
Image credits: 1. Love This Day Events 2. Style Me Pretty 3. Grey Likes Weddings 4.  Style Me Pretty
An incredibly simple but beautiful way to decorate your aisle is with petals; you can even use any leftover for people to throw as confetti.
Companies like The Real Flower Confetti Company and Shropshire Petals offer a huge array of different types of petals in a myriad of colours. Just be cautious if you choose colour enhanced petals as the darker shades can leak colour if they are crushed or come into contact with water (I have the purple stain on my wedding dress to prove this!)
Scatter petals haphazardly down the aisle for a laid back look or why not go for a full blanket effect.  Just make sure that you seek approval from your venue first as if you are wearing a long dress, you are likely to end up sweeping petals out of the ceremony room.
If you really want to create an impact, set your petals out in elaborate swirling abstract patterns; but make sure you have enough space in the room for guests to be guided to their seats without walking down the aisle to avoid disturbing the display.  This is definitely a look for your photographer to capture before you make your entrance; it won't like quite as pristine once you and your maids have walked down the aisle!  Alternatively, ensure you leave a clear path down the centre of your designs or focus your design at the entrance to the aisle so that you can glide to your groom without disturbing your pretty petals.
For a less high maintenance look, line the two sides of your aisle with a thick row of petals; this would look truly breathtaking in an ombre effect.
NATURAL AISLE DECOR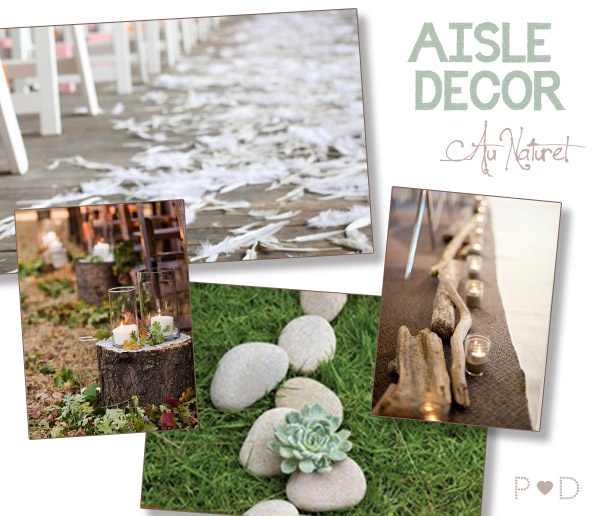 Image credits: 1. A Beautiful Mess 2. Indulgy 3. Style Me Pretty 4. Elizabeth Ann Designs 
And of course you don't just have to stick to florals for your aisle decor; other natural elements can create a visually stunning display.  Look to fruit and vegetables to complement your venue or the season of your wedding: pumpkins and artichokes for an Autumnal wedding or coconuts for a destination affair.
At my own wedding, I lined the sides of my aisle with beautiful feathers purchased from KIMONOS Feathers on Etsy who have a huge and ever changing choice of feathers and I would highly recommend.
For a coastal venue, consider using driftwood or sea shells to line your aisle. A few foraging expeditions prior to the wedding could provide you with all the pieces you need or Buy The Sea is a fantastic online store selling products inspired by the sea, including beautiful seashells and driftwood garlands.
Tree stumps would be perfect for a rustic or woodland affair and provide the perfect raised surface for displaying hurricane lamps or vases of flowers. You could even carve your initials into the bark for the ultimate in personalisation.
Or for true simplicity, flat smooth stones in either grey or black can be laid out to create your aisle and purchased from any garden centre.  Intersperse them with votives, air plants or succulents for additional interest.
Is aisle decor something you have considered for your ceremony?  Little touches like this can make such a difference to a space and especially for a civil ceremony, add a real sense of occasion.
Vicki xx
POSTED IN: Inspiration

TAGS: aisle decor, aisle styling, ceremony styling, Floral Design, natural aisle decor, petal aisle decor, style the aisle, Wedding Decor, Wedding Flowers, wedding ideas, Wedding Inspiration, Wedding Styling, Wedding Trend