If you are looking for a way to add a little personality and fun into your wedding day or to add some gravitas to a civil ceremony then you really can't afford to miss our recent guide to styling your aisle!  So far, we have looked at Funky Fabrics and given you a healthy dose of Au Naturel inspiration and today we finish our aisle decor series by taking a look at some more alternative ideas.
PRETTY PAPER AISLE DECOR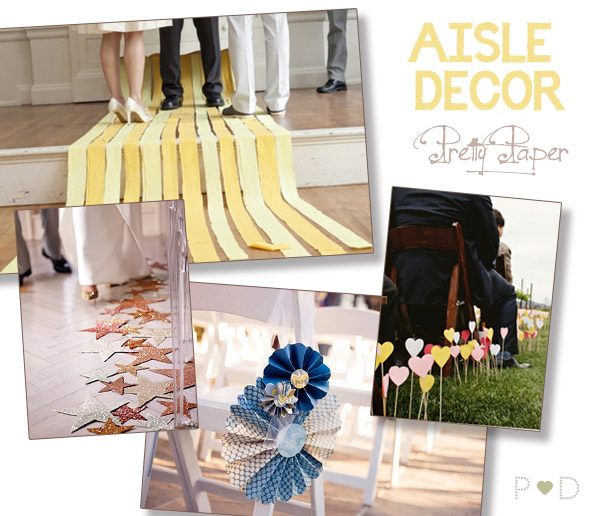 Image credits: 1. Ruffled 2. 100 Layer Cake 3. Jennifer Lynn Events 4. Green Wedding Shoes 
You are spoilt for choice when it comes to paper aisle decor – opt for tiny accents or dramatic statements in a range of styles, sizes and colours.  Just remember, these decor items are strictly for indoor weddings or dry days!
Create stylish aisle boundaries by creating paper garlands or paper chains which are hung from the ends of chairs in each row; paper is a great medium for DIY aisle decor as something as simple to make as paper chains can look incredibly effective.
Paper rosettes, pom poms or pinwheels would all look fabulous at a whimsical affair and can either be placed on the floor to line your aisle or hung on chair ends.  If you are feeling crafty, there are numerous DIY guides online or to buy, look at Peach Blossom or Pippii.
Simple but undeniably stylish, you can always line your aisle with rolls of crepe paper – cost effective and quick and easy to set up…it has to be a winner!
Or for a slightly quirkier look, I just love the mini hearts on sticks lining the aisle in the image above.  They're small enough to be subtle but their eye catching colours ensure they'll still be noticed.  To re-create something similar, try Hobbycraft or other craft stores for heart shaped hole punches.  You could also recreate the same effect with other shapes such butterflies or stars.
Alternatively, cut out shapes in card and roughly position them onto the floor; for smaller shapes, look to paint sample cards available from DIY stores to create a fabulous ombre effect or why not add some glitter to your card shapes for a bit of sparkle?
ALTERNATIVE AISLE DECOR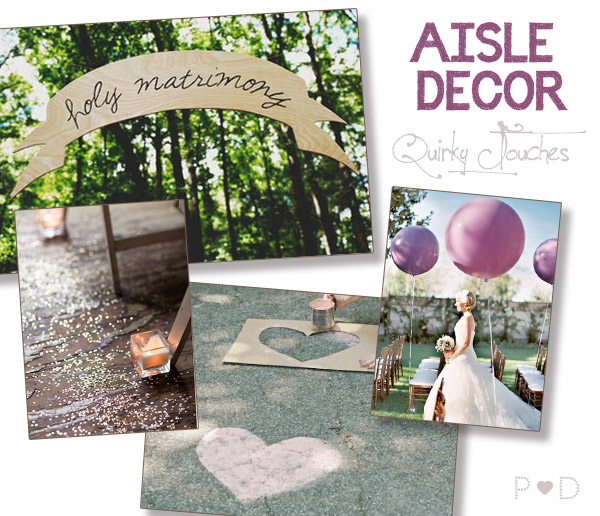 Image credits: 1. Ruffled 2. Weddings by Lilly 3. Luna and Chloe Weddings 4.  A Practical Wedding
If your personal aesthetic leans more to the quirky and eclectic then really let your imagination run wild: you could create huge paper flowers to line your aisle, bring the outdoors in by laying a grass aisle or how about carving or commissioning a bespoke sign to hang over the entrance to your aisle?
If you're a girl with a love of sparkle, then you could always decorate your aisle with sparkly sequins or glitter – go for a random scattering to set the scene.
We've spoken before about the wonderful things you can do with the humble balloon but have you ever considered using them to line your aisle?  Huge Geronimo Balloons or clear balloons full of wonderful prettiness like those from BonBon Balloons would be perfect!  Just make sure the balloons are safely secured for an outdoor event and are high enough to avoid obscuring peoples' views of you as you glide past.
Literally follow your heart with this fabulous DIY post from A Practical Wedding which shows you how to create heart designs using flour and food colouring.  You could use this idea to extend your aisle; create a heart path outside to lead your guests into the venue.  It's a fabulous idea to decorate ugly concrete entranceways and can be easily washed away afterwards.
We'd love to know your thoughts on our guide to styling your aisle; is this something you'd considered before?  Any ideas that have caught your eye?
Vicki xx