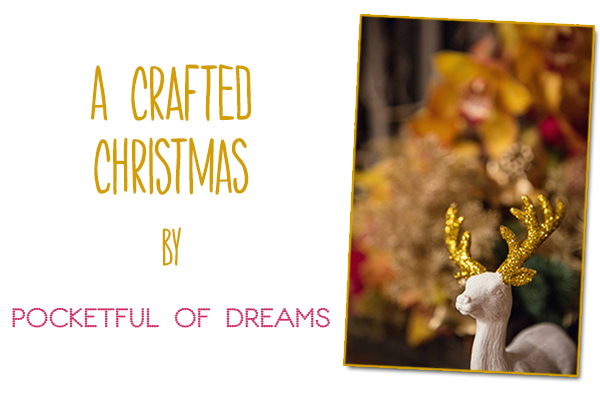 It seemed only right and proper that as we were busy crafting various Christmas items and decorations that we thought about the table setting we would create to complement our quirky and vibrant Christmas look.  It would need to be a look that was bold, brave and challenged the norms of Christmas styling whilst still being warm, inviting and appropriate for the festive season.  So working with our festive Dream Team, we set about bringing our vision to life in the cooler than cool setting of the Hoxton Hotel.
A QUIRKY FESTIVE TABLE SETTING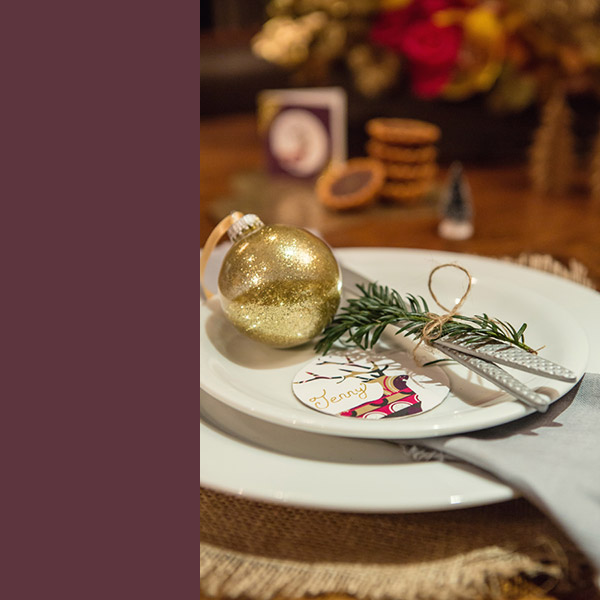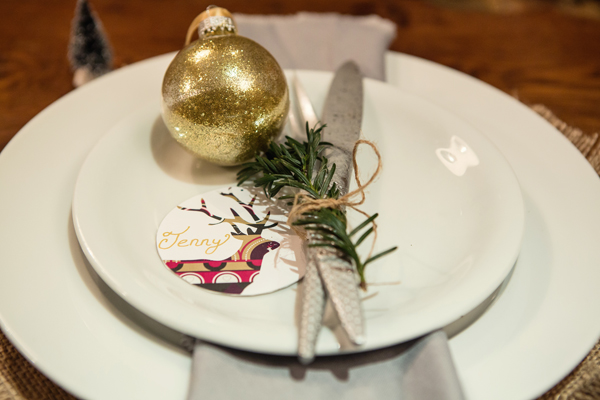 We created a rustic place setting with simple detailing and incorporated the fruits of our own winter foraging with cutlery simply tied with a sprig of fir and the whole look was set off by one of our gold glitter crafted baubles.  The baubles from our Bonjour Pony designed Christmas cards can also be used as place settings or gift tags to ensure a synergy across all your festive stationery and we used the reindeer bauble design from the Round Bauble card to create place name cards.
All of this sat upon crafted charger plates which were roughly cut from hessian and pulled at the edges to create a frayed effect.  Cute little bottles, laser cut trees and a home crafted reindeer helped to add detail and interest whilst Pistachio Rose's decadent tarts with their shiny dark chocolate topping and sprinkle of edible gold looked resplendent piled atop gold Petra Doily Plates from Rowen & Wren.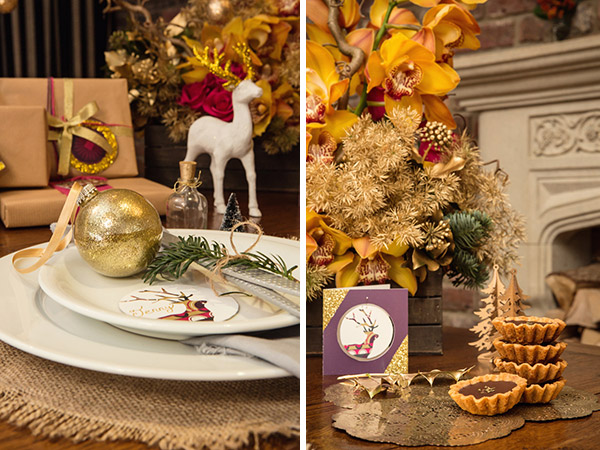 And of course our table scene wouldn't be complete without some stunning floral elements.  Leanne at Wild About perfectly grasped our desire to use floral and natural elements in an unconventional way that was still beautiful and tied back to the festive season.  Simple jam jar arrangements of firs and berries complemented beautiful greywood bloom vases from Rowen & Wren and the showstopping centrepiece was a rustic trough overflowing with stunning gold cymbidium orchids, accents of bright cerise from a few roses, gold sprayed firs and winter foliage and contorted willow.
This combination of attention grabbing colours and traditional festive elements presented with a twist perfectly captured the essence of our festive shoot.  And of course, we couldn't resist adding some of our own crafted golden mini baubles.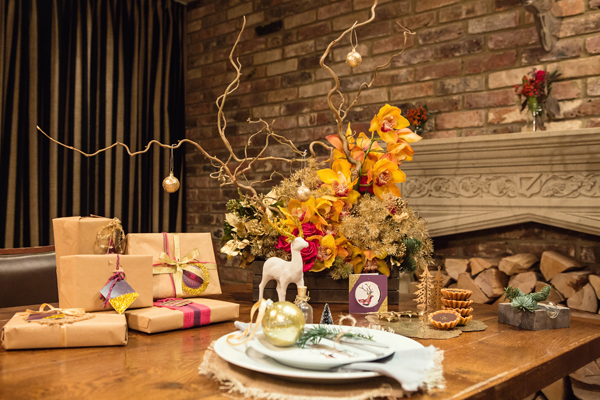 Image credits: Debs Ivelja Photography
Setting the Christmas table is a surefire way to get your guests oohing and aahing before you've even bought out the turkey.  What are your plans for this year?
Michelle & Vicki xx
POSTED IN: Inspiration

TAGS: a crafted christmas, alternative christmas, Christmas, christmas crafting, christmas florals, Christmas Table, christmas table scene, christmas table setting, christmas tarts, DIY christmas, festive, noel, rustic christmas, Yuletide