Well it's only one week now until the big day and it's fair to say that what with work, festive food preparations, last minute gift buying and wrapping it is a busy old time of year.  So why not take five minutes out of your manic day and join us for a well deserved rest…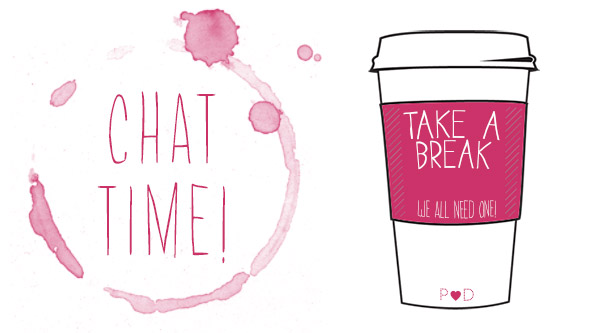 We are on a bit of a mission here at Pocketful of Dreams, to inject a bit of camaraderie into our working week – whether you work from home, in an office or a bit of  both.  So go on, grab yourself a coffee, maybe a biscuit or three and take five minutes out of your hectic day to join us for a little chat.
This week, we're talking about…achievements.
REFLECTING BACK ON 2012
As the year draws to an end, it's only natural to start reflecting back onto the past twelve months and thinking about what you've done.  Whilst we're not a big believers in New Year's Resolutions, we both tend to set some goals at the start of the year, some of which are very practical and some which are more vague and difficult to pin down.  So at the end of the year it's good to sit back and review those goals – some of which we'll have done, some of which are no longer relevant and some of which we will have completely forgotten about!
Vicki's Achievements
Looking back over the past 12 months, it's fair to say that 2012 has been a pretty amazing one for me, full of firsts, big decisions and scary steps.  So much so that trying to pick a single key achievement isn't perhaps as straightforward as it may have been in previous years.  After all, this was the year that I found the courage to quit the corporate world, that I joined the incredible Pocketful of Dreams and took up some incredible opportunities professionally.
But my biggest achievement has to be the fact that this year I became a wife.  In the lead up to the wedding, I'll admit to being more concerned with the wedding details than the marriage itself but since the wedding, I have been constantly bowled over by how different being married feels.  So whilst it may not seem like an accomplishment in the traditional sense, my biggest achievement of this year has to be the fact that I now have the most amazing husband.  I couldn't feel prouder to be Mrs DeBlasi.
Michelle's Achievements
It's actually pretty crazy to look back at the past 12-months and let it all sink in. Sometimes we can be going at a million miles an hour that we don't give ourselves time to reflect on exactly where we are at in life and those all-important achievements. But it is so important to give yourself this time, to give yourself a ruddy-well-deserved pat on the back and to celebrate moving forward, be it something as simple as ticking off the to-do list or something huge like a change of career direction.
For me, without a doubt, my biggest achievements have been related to moving my business forward and continuing to challenge myself. P
ocketful of Dreams Events
has gone from strength-to-strength
(We'll be revisiting some amazing projects before the end of the year is out so don't miss our round-up post)
and I launched
Dream. Find. Do
a blogging masterclass with my friend Rebecca Norris of
Florence Finds
 welcoming lots of new students to our blogging workshops.
It's been a really challenging year too, with so much to do and so little spare time, juggling all these amazing projects and work commitments with my relationship and family life has been one of the hardest challenges I've ever faced. But it's a challenge I finally feel I am succeeding at, and that's in no small part to the incredible support network I have around me. So really my biggest achievement is getting to the end of a tough year with a smile on my face, a happy heart and an excited feeling about what 2013 will bring.
OVER TO YOU:

  What has been your biggest achievement of 2012?
We'd love to know what you think your biggest achievement of the year has been.  Personal, professional or a bit of both, we'd love to hear from you.
Michelle and Vicki xx