Is it just me or are the weeks whizzing round at an alarming rate at the minute?  December really is silly season and as things tend to get a little crazy at this time of year why not give yourself five minutes to take a bit of time out…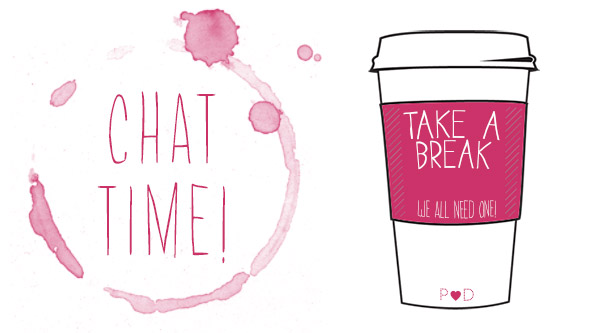 We are on a bit of a mission here at Pocketful of Dreams, to inject a bit of camaraderie into our working week – whether you work from home, in an office or a bit of  both.  So go on, grab yourself a coffee, maybe a biscuit or three and take five minutes out of your hectic day to join us for a little chat.
This week, we're talking about…romance.
IDEAS FOR KEEPING THE ROMANCE ALIVE
When you live with someone – no matter how much you adore them – sometimes everyday life can just get in the way of the romance.  Being stressed at work, the never ending pile of washing, money concerns, visits to see the in-laws…sometimes it can be a real struggle just to find the time to say hello to your other half, let alone spend hours gazing into each other's eyes over a candlelit supper.
So how do you keep the romance alive in a long term relationship?  Well I won't pretend I have all the answers here but what works for us isn't the big, fanciful gestures so often attributed to romance.  In fact, we're not really big into big gestures at all.  What works for us is the smaller, everyday gestures liking enjoying a cup of tea together in bed on a Saturday morning or making time to go the cinema together.  We went to the movies a lot when we first started dating (our relationship was quite clandestine at the beginning and the cinema is dark…so it worked well!) and so for us there remains something special about going to the cinema, snuggling up in the dark and sharing a bag of popcorn together.  It may not be candlelight and red roses but for me, it manages to simultaneously remind me of the excitement of those first few dates and how lucky I am to be married to this amazing, caring man (after all, although he prefers sugar, he always lets me buy the salted popcorn).
OVER TO YOU:

  How do you keep the romance alive in your relationship?
It's not all about the big gestures but I'd love to know, how do you keep the romance alive in your relationship?
Vicki xx