You spend weeks – sometimes months – planning the perfect Christmas decor, presents and party outfits but on the day itself, there is no denying it's all about the food!  And of course, what better way to showcase hours of slaving away in the kitchen than with a beautifully styled festive table.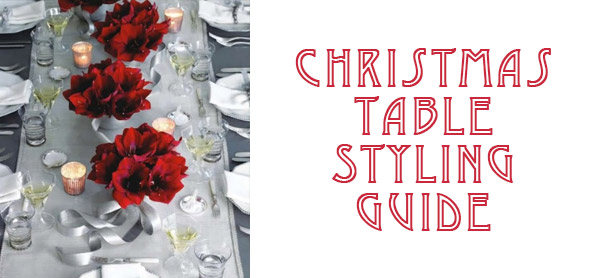 Yesterday we showcased our own take on styling a festive tablescape but in case eclectic isn't your style, or you think it's maybe a little bold for the grandparents, then this afternoon we're bringing you some more table styling ideas.
CHRISTMAS DINNER TABLE STYLING INSPIRATION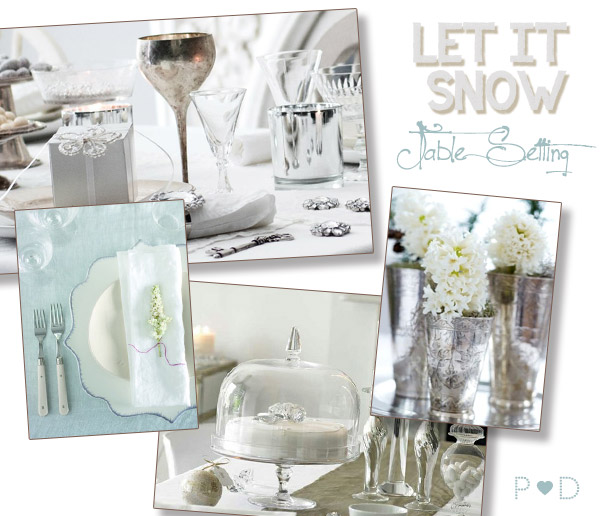 Image Credits: 1. Willow Weddings 2. Madame Xereta 3. Little Blue Deer 4. The White Company
This winter wonderland styling will lend a crisp and pure look to your table this Christmas.  When you're using primarily one colour, it's important to use a variety of textures and shapes to stop your scene looking flat or bland.  Consider a beautiful lace tablecloth or scalloped crockery in snow white or an ice blue.
Inject neutral and metallic tones for little pops of colour; pewter goblets and ornate vintage silver cutlery would add the perfect luxe edge to your table styling.
Clear glass is the perfect material to use for your details; cake stands displaying after-dinner treats and tall glass candlesticks will look effortlessly chic against your white backdrop.  Small crystals scattered across the table or vintage styled keys at each place setting will add interest and a sense of occasion to your table dressing.
Use seasonal blooms in white to create a floral centrepiece; amaryllis provides the wow factor with its size and shape or opt for paperwhites or hyacinths displayed in mercuried silver vases.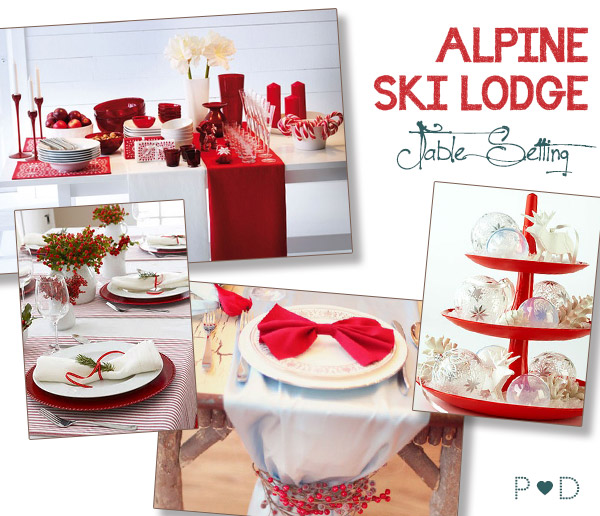 Image Credits: 1. Decoracion 2 2. Weddingomania 3. Decoholic 4. Bodaplanes
The Scandi inspired style with its crisp red and white palette instantly conjures up a sense of festive cheer; use splashes of red sparingly to ensure your table stays looking cheerful but classy.
Red charger plates provide a striking base on which to serve your Christmas feast; set each table setting with a white dinner plate and a sprig of fir tied to your cutlery with red and white baker's twine will bring a hint of the outside in.
Inject some red into your table through candles, votives and other smaller details.  A laser cut felt table runner in red would provide the perfect pop without layering heavy blocks of red onto your table.
Ceramic white decorations in snowflake and star motifs will look perfect dotted about the table and perhaps finish the look off with a display of classic candy canes.
Floral elements here can be simple but impactful; a handful of red berries displayed in a white ceramic vase will hit the perfect note for this table.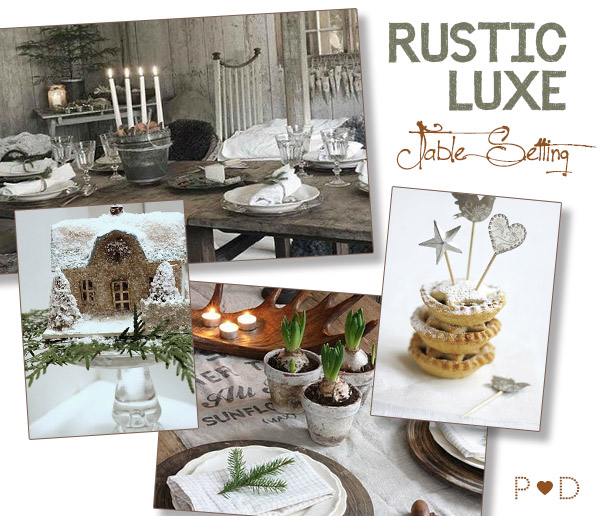 Image Credits: 1. Floristmastarna 2. Vintage Rose Garden 3. Best Home Decorators 4. Nordingarden
The perfect rustic setting starts with a rough wooden table but if you don't have one of those to hand then opt for a hessian or rough linen tablecloth in neutral shades.
Select simple crockery and present plates on charger plates made from frayed burlap or wood.  And of course, for the rustic look you need to be putting your foraging skills to the test once more, looking for sprigs of twigs, firs and pine cones all of which would look perfect used as place settings.
Details are simple but high impact; think tea lights presented naked without a votive perhaps resting on a thick branch or even a naturally shed antler.  Use rough textures in neutral shades; galvanized metal would be the perfect material for displaying candles or perhaps some contorted willow with a few sparkly baubles hanging for a hint of luxe.
Keep florals to a minimum but decorate with foliage; you want to create a look which appears natural and organic rather than over-contrived.  One great option if you do want flowers is to plant hyacinths in tins or hyacinth vases where the bulbs are on full display and provide the perfect rustic twist.
POSTED IN: Inspiration

TAGS: alpine, Christmas, christmas dinner, christmas dinner table, christmas table setting, christmas tablescape, festive, festive feast, noel, Rustic, scandi, winter wonderland, Yuletide