Hopefully by now you are all well on the way to finishing your Christmas shopping, your beautiful tree is up and the next thing on your festive to do list is to get those presents wrapped!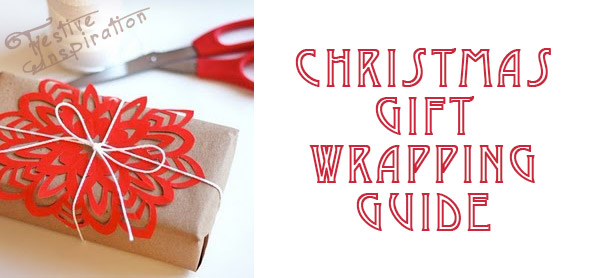 Here at Pocketful of Dreams, we love the little details, so for us, wrapping the presents isn't simply a case of seeing what paper is left over from last year, rather we like to plan a specific look for our gift wrapping which complements our Christmas styling and which is guaranteed to make your friends and family feel loved and cherished before they've even seen the present inside!
Last week we shared our favourite ideas for decorating your tree and today we show you how to carry those design concepts through into your gift wrapping.
CHRISTMAS GIFT WRAPPING INSPIRATION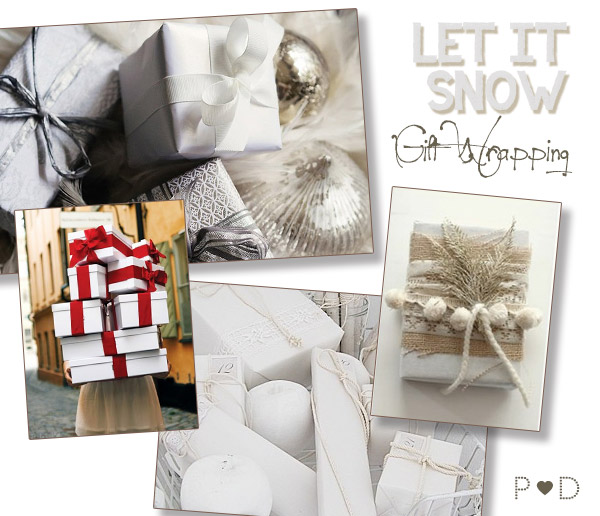 Image Credits: 1. All You Need Is White 2. Gateau et Chateaux 3. Thank God For Design 4. A Gift Wrapped Life 
Create your own winter wonderland with gifts wrapped all in white.  For the true purist, choose a thick white paper to wrap all your gifts and decorate with all white adornments.  For added interest, play with different textures – white rope, ribbon and lace would all look beautiful but make sure you use premium materials to pull off this chic look.
If you're worried that a pure white palette may look too stark, introduce some neutrals and naturals into your wrapping with a touch of sparkle for a little pop.  Use natural elements in neutral tones or paint holly or firs white before adding to your pile of gifts.
Channel the Snow Queen vibe by adding metallic shades to your white gift wrapping; pewter and silver tones will look stunning as they catch the twinkly lights from the tree.
Or for a brighter take on the white look, inject pops of colour like ice blue or holly berry red.  Gifts presented all in white boxes tied with thick red ribbon will really look beautiful and have your friends and family just itching to see what delights are inside.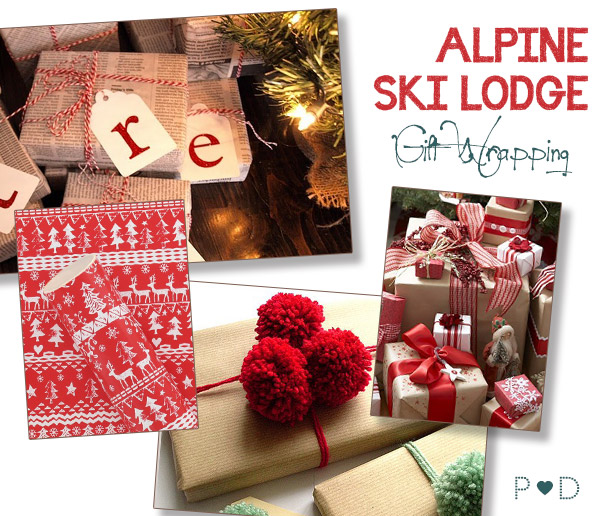 Image Credits: 1. Life Rearranged 2. Paperchase 3. Passion for Fashion 4. The Lemon Pear 
Channel the Scandi look with a palette of red, white and green for your gift wrapping.
Look to incorporate visual motifs like christmas trees, old fashioned Santa Claus characters and reindeer either through gift wrap such as this paper from Paperchase, through using stamps on home crafted gift tags or by threading little decorations through your ribbon.
Red ribbon, Baker's Twine or red and white striped paper will create the perfect finishing touches for this look and don't be afraid to go a little rustic in your choice of paper – kraft paper or even old newspaper will create the perfect backdrop for your Alpine Ski Lodge touches to shine through
Alternatively, why not fully embrace the joy of the Christmas jumper with adorable little red or green woollen pom poms nestling atop your gifts?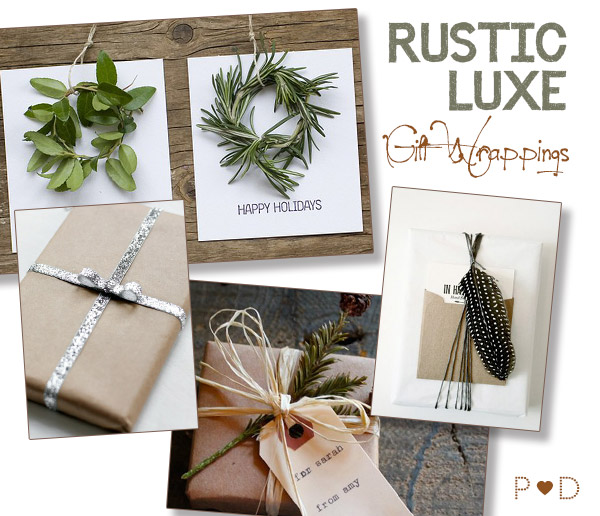 Image Credits: 1. Frolic  2. Emily Recommends 3. Hey Look 4. Alice Lane Home
For a rustic look, it just has to be kraft paper; truly versatile, it can be styled any way you want it!
To create a woodland styled look tie your paper with twine and decorate with feathers, pine cones, fir trimmings or any other foraged foliage.  Or for a splash of luxe, I love this sparkly silver ribbon used above.
Create little envelopes on your parcels to slot in labels or little messages or why not have a go at creating origami shapes from kraft paper to add depth and interest to your presents?
Or if you fancy breaking away from kraft paper, choose a recycled, textured paper or card to make your own gift tags with.  I cannot get enough of these mini wreath tags from Frolic which couldn't be simpler to make but would add interest wow factor to even the plainest of presents.
So how are you wrapping your presents this year?  Personally, I'm opting for kraft paper, silver sparkly baker's twine and home crafted labels made from luggage tags and my new reindeer stamp!
Vicki xx