Did you see our sumptuous inspiration mood board this morning?  All about drama and elegance, we designed the look especially for The State of Grace when we were asked to style their showroom windows for Christmas.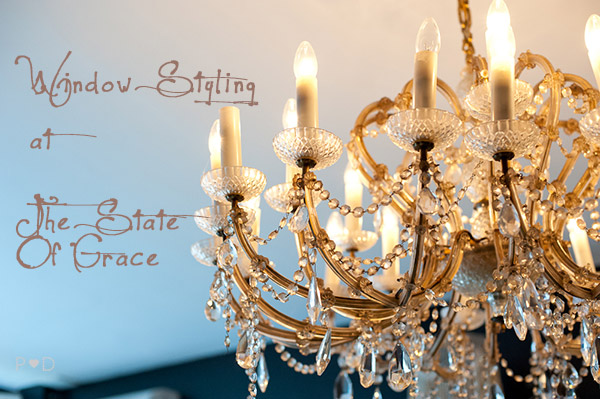 This afternoon therefore we thought we would share with you all the details of how we transformed inspiration into reality and the Dream Team we worked with to bring our design to life.
THE DREAM TEAM
We knew we wanted to create a window with real attention-grabbing wow factor and were lucky enough to work with a fabulous team of creatives to make our vision a reality:
Intricate Creations - specialising in contemporary, bespoke laser-cut wedding stationery, we commissioned Intricate Creations to create us some laser cutting fabulousness and we were certainly not disappointed!
Philippa Craddock Flowers – Philippa's exquisite designs have led to her becoming recognised as one of the world's leading florists.  She specialises in creating natural, sumptuous and abundant flower designs and so we were thrilled when she agreed to provide the floral design elements for the window.
Plus of course Lucia and her team who let us loose in their windows, fully embraced our vision, helped us behind the scenes and supplied us with the most gorgeous of dresses, jewellery and accessories to display.
TURNING INSPIRATION INTO REALITY
To start with, we worked with Intricate Creations to see how we could put their laser cutting skills to good use in our window, briefing them to create a frame effect within which we could present Lucia's creations and show them off in the best possible setting.  The team at Intricate Creations took on board our desire to bring to life the sumptuous and abundant nature of Christmas in a stylish and elegant way and created a beautiful array of stars in varying sizes and patterns in rich creams and soft golds.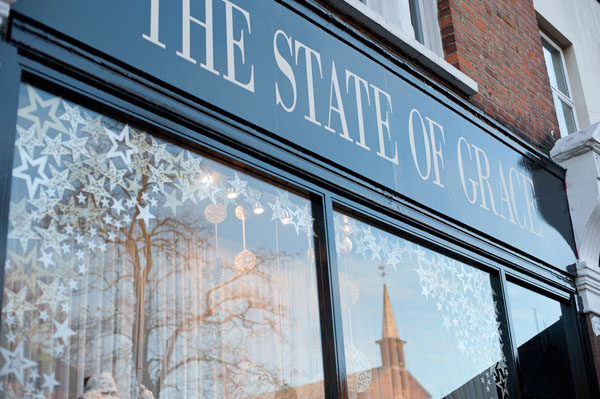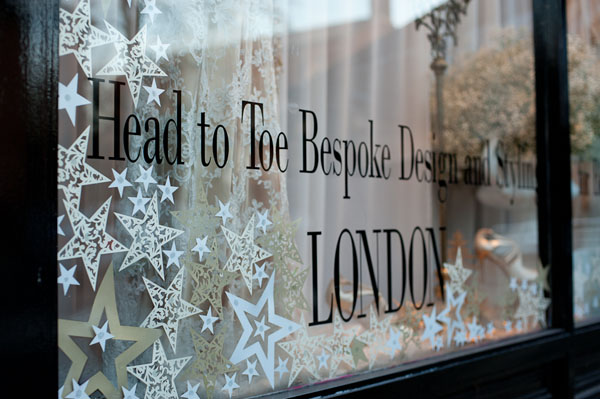 To add depth and interest to the window, they also created some 3D baubles in an intricate filigree pattern which we hung at varying heights from the ceiling and which were drawing interest and coos of admiration from passers by before we had even finished the install!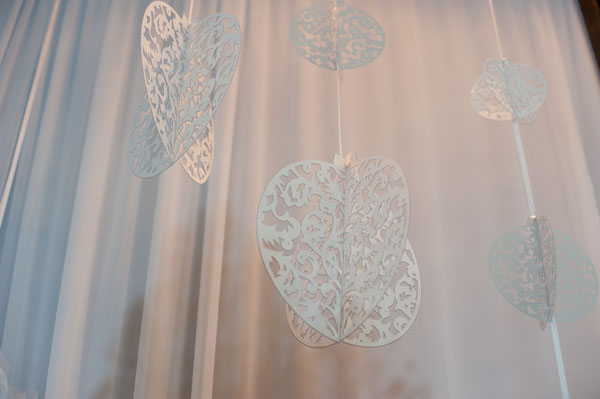 To add texture to the window, Philippa created an enormous gypsophilia display in a white urn which looked absolutely stunning.  The spherical gypsophilia display provided softness and a subtle reference to snow filled festivities, whilst the urn and size of the display added a real sense of decadence to the look.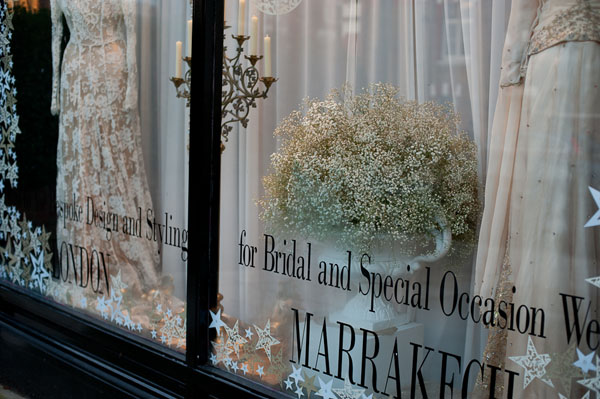 We placed the urn upon a white plinth to give it the standing it deserved, atop a few gold doilies and gold dipped ostrich feathers.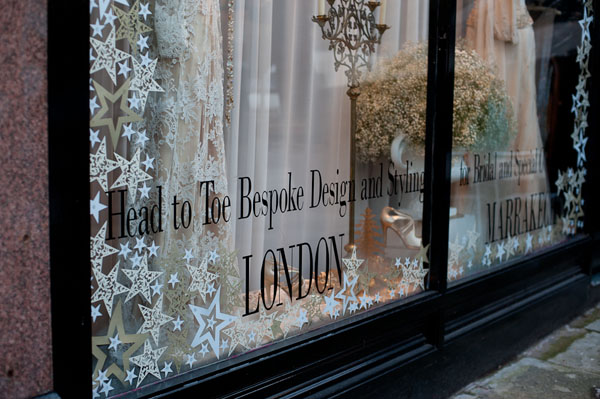 Next to this we placed a dramatic gold candelabra with white dinner candles which perfectly complemented the decadent scene we were creating and added a sense of drama to the scene.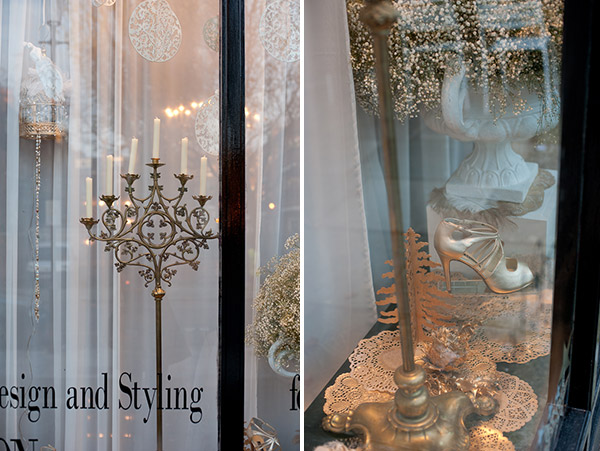 We added lots of texture and detail to the bottom of the window with gold doilies, gold sprayed holly leaves and an assortment of white and gold dipped ostrich feathers, golden baubles and beautiful accessories from The State of Grace.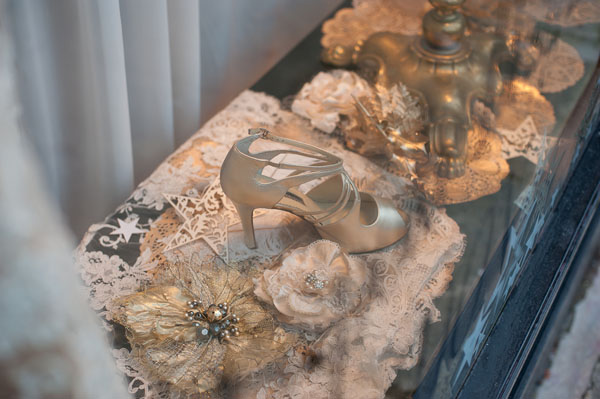 Then the stars of the show – the dresses.  Lucia selected us two jaw-droppingly beautiful dresses in gold which we positioned with their backs to the window so that passersby could see up close the exquisite beading and detailing on the "Oriental" corset, skirt and train in blush silk and metallic golds – part of The State of Grace's Eurasian Couture Collection bringing the most ornate traditional Asian embroidery work and inspiration together with the finest European Couture.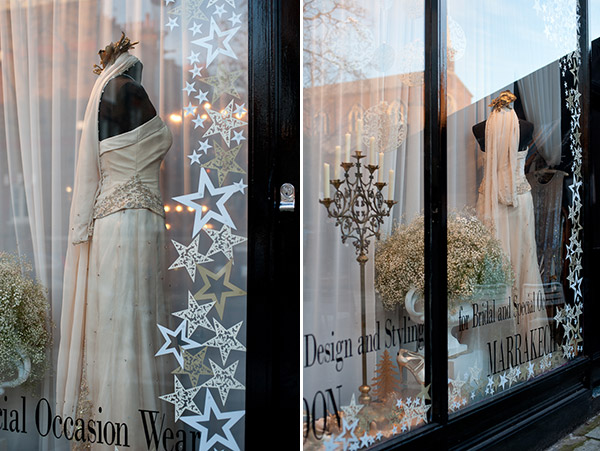 Over the other dress we placed  The "Versailles" Lace Coat and Train – the perfect piece of drama to wear over a simple silk gown which perfectly emulated our decadent styling.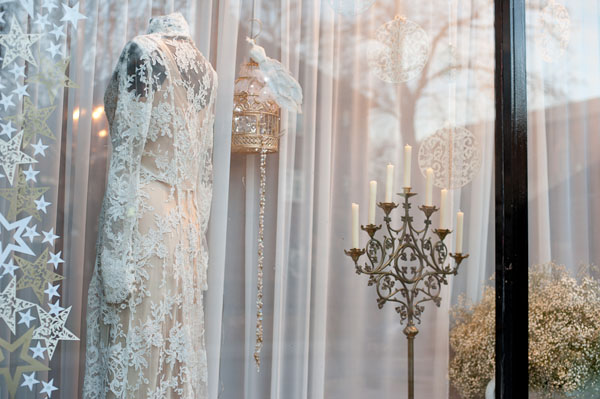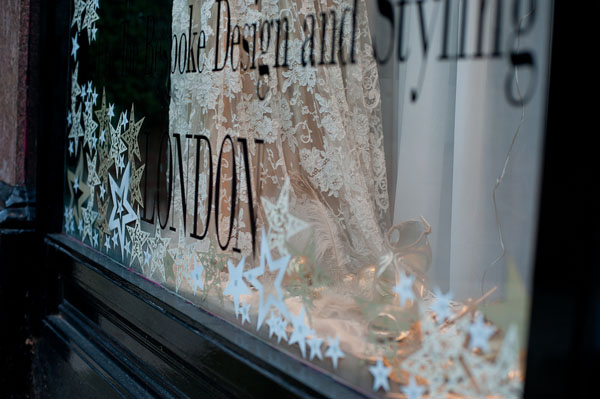 And for the final touch, we hung a gold birdcage filled with twinkling lights with a beautiful white feathered bird perching on top to keep a watchful eye over the window.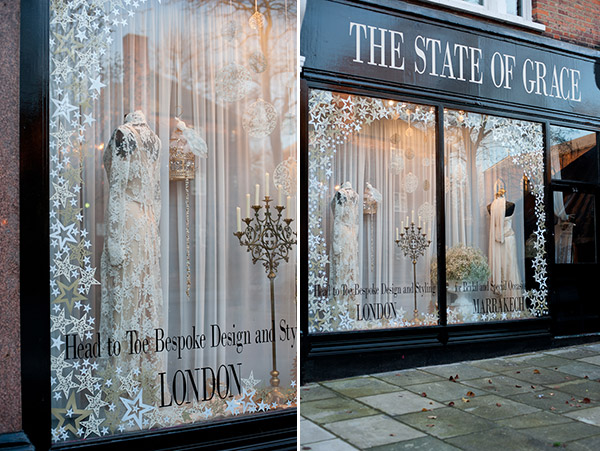 We'd like to say a huge thank to The State of Grace for inviting us to style their window, to Intricate Creations and Philippa Craddock for their stunning creations, to Sam from A Little London Wedding for helping out on the day and to Fiona Kelly for capturing everything so brilliantly!
Image credits: Fiona Kelly Photography
We would love your feedback on our window design and if you are a bride to be looking for your dress, then do get in touch with The State of Grace to discuss a bespoke creation!
Vicki xx
POSTED IN: Inspiration, POD News, Portfolio

TAGS: Christmas Styling, Decadent, decadent design, festive decadence, golds and creams, indulgence, Intricate Creations, Philippa Craddock Flowers, sumptuous, The State of Grace, window dressing, window styling