Whether you're planning for a festive party, a Christmas day feast with the family or just want to be prepared for friends and family popping in over the Christmas period, make sure your larder is stocked this December with some fabulous nibbles and treats.
FESTIVE PARTY FOOD
You want to treat your friends and family – and yourself – this Christmas, but don't want to be spending hours slaving away in the kitchen.  So today we thought we would bring you our favourite ideas for fun festive food that's low on effort but bound to impress!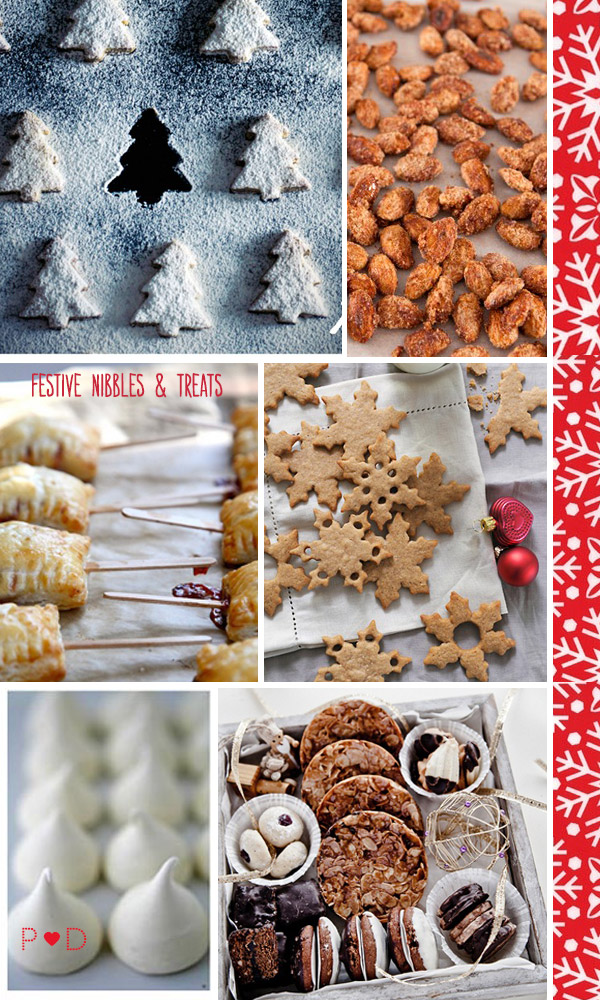 .
Image Credits: 1. Home-biba 2. One Charming Party 3. Joy The Baker 4. Ice Cream Crossover 5. Southern Living 6. Favery Home
It's a well known fact that food always looks (and quite possibly tastes) better when served in a cute pop format on sticks.  And so I am falling head over heels with this twist on a classic from Joy the Baker; Bite sized Baked Brie on sticks!
For simple treats which look the part, opt for cookies and biscuits in cute Christmas tree, star or snowflake designs; sweet designs can be lightly dusted with icing sugar for a snow covered effect or why not add little silver balls or red M&Ms for snowflake tips or tree decorations?
If nobody in your house likes fruit cake, don't despair, opt for cute festive flavoured cupcakes instead – think cinnamon, gingerbread or peppermint flavours.  Personally, I shall definitely be giving these Cinnamon Swirl Cupcakes courtesy of Restoration Cake a whirl this year!
Savoury biscuits will also go down as a welcome alternative when your guests have gorged themselves on the Quality Street tin – we always make sure we have some of these parmesan biscuits ready and waiting over the festive period.
What could be more festive than gingerbread?  Opt for the traditional gingerbread man, simply decorated stars or bauble shapes; these are a great one for doing with the children.  You could even display them proudly on the tree for everyone to see!  Or if you are feeling a bit more adventurous, you could even try making your very own gingerbread house with this great gingerbread house cookie cutter from Cox & Cox!
Or if you've been inspired by our Let It Snow styling ideas for your home, then what could be chicer than simple white meringue kisses?
And don't forget – presentation is the key to the ultimate wow factor at Christmas time.  Display gingerbread houses on a glass cake stand with some fir cuttings or present biscuits, cookies and chocolate treats in a rustic box for people to dip into at their leisure, perhaps with a traditional candy cane thrown in for a red and white pop.
Non Christmas desserts can be also given a festive twist by dusting with icing sugar – create paper star, tree or present shapes to place on your dessert before dusting to leave a festive image for your guests to admire.
Those baked brie bites on sticks are calling out to me…what festive nibbles are you going to be preparing this year?
Vicki xx