Last week we shared our top festive advice and ideas on how to find the perfect real or artificial Christmas tree and today we are looking at what is for me, the most exciting part of the festive preparations: decorating the tree.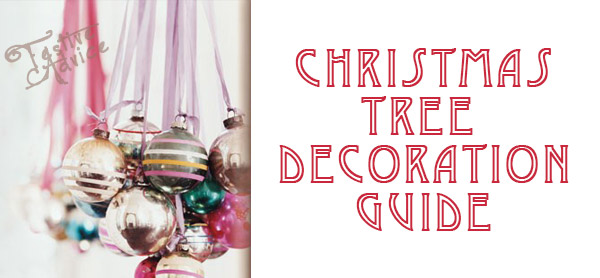 HOW TO DECORATE A CHRISTMAS TREE
To guarantee your tree dazzles your friends and family, just follow our simple three step guide to decorating in layers:
1) First of all, add your fairy lights, making sure you choose a set where the wire strands match the colour of your tree so that it remains largely hidden. The best way to ensure an even glow is to systematically wind your lights around your tree.  Start from the base and work up to the top of tree, wrapping your lights around each branch moving from the trunk to the outer tips of your branches at each turn.
2) Next, add your garlands such as beads, tinsel, ribbon or paper chains.  Start at the top of your tree and position each garland in a scalloped motion across the branches.  Make sure you keep the garland loosely positioned to avoid clumping branches together.
3) And the final stage is the really fun part – adding your decorations!  Whether you are going for all out chic in a single colour, a tasteful palette or an eclectic explosion of colour there are a few tips for helping your tree look its best.  Position your largest decorations at the bottom of the tree and don't forget to add decorations along the length of the branches to add depth and interest.  Pick out your favourite decorations and make sure they have prominent positions on your tree so you can enjoy them throughout the festive season.
CHRISTMAS TREE DECORATION INSPIRATION
Armed with the practical know-how but not sure what look you want to create this year?  Here are a few of our favourite Christmas tree looks:

 Image credits: 1. Macys  2. Home Designs Interior 3. Iroonie 4. Facilisimo 
If you fancy creating your very own Winter Wonderland this year then opt for a snow inspired Christmas tree with lashings of white.  This look is perfect for those who prefer an artificial tree; opt for an all white tree or a fir tree with snow brushed effect.
Decorate your tree with a selection of white, transparent glass and light silver decorations and add interest by varying sizes and shapes.
If you want to inject a little colour in amongst all that white, then why not choose an ice blue which pops perfectly against a white backdrop.
Or for the ultimate in Christmas chic, decorate your tree purely in white lights and crisp white baubles.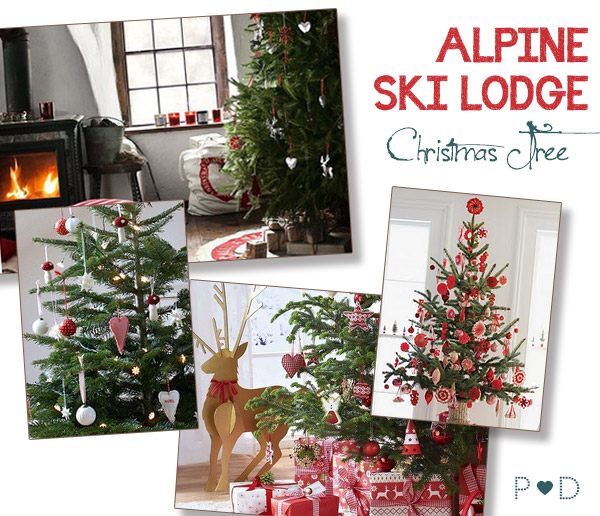 Image Credits: 1. O Nosso Refugio 2. Sugarscout 3. Davinong 4. Christmas Magazine
Embrace the Scandinavian ski chalet look this Christmas with a colour palette of red and white on a fir tree.
This look works best with a real tree; skip the tinsel and garlands and focus on traditional decorations in your two tone palette which show your tree off to perfection.
Opt for felt and fabric decorations to add a sense of warmth and cosiness to your look; go for star and round bauble shapes and look to incorporate fair isle patterns either in the decorations themselves or in the presents crowding the bottom of the tree.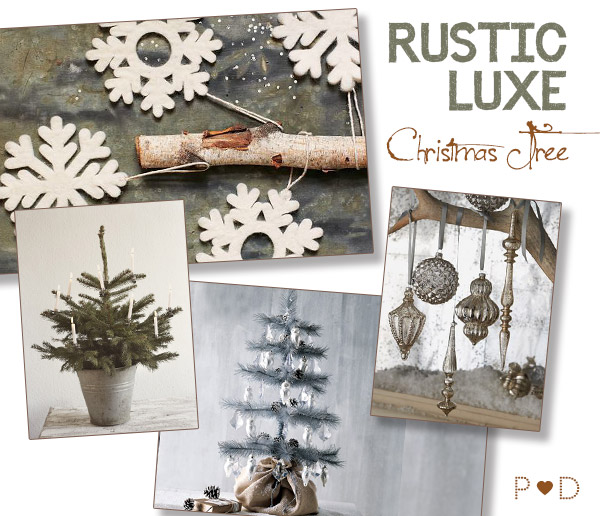 Image Credits: 1. Leaf and Letter 2. Scout and Charm 3. Koncept Huset 4. Magzmagz
If you loved our Rough Luxe mood board then why not go all out and adopt the look for your Christmas tree?
Again, a real fir works best here – display a complete tree in a galvanised bucket or hessian sack or alternatively, take tall clippings from a fir tree and prop that against a wall to decorate.
Minimal decorations work best for this look which is all about embracing the outdoors and the tree in its natural form.  Decorate with white fairy lights or even some candles and then add decorations sparingly.
Mix rustic decorations made from wood and pressed metal in woodland animal or natural shapes with more luxe items like mercuried silver baubles or vintage ornaments.
Is your Christmas tree an explosion of colour or boasting a sophisticated all white palette?  We'd love to know how you're decorating your tree this year…
Vicki xx
POSTED IN: Inspiration

TAGS: alpine, baubles, Christmas, christmas decorations, Christmas Tree, fairy lights, festive, garlands, noel, rough luxe, rustic christmas, scandi, white christmas, Yuletide