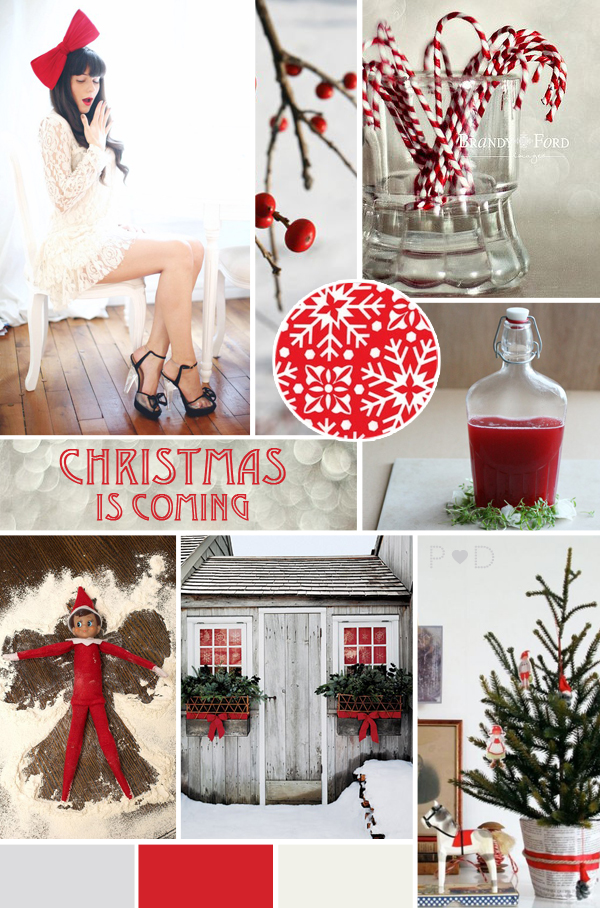 Image Credits: 1. Aesthetic Concepts 2.Centerlandscape 3 & 4. Mochatini 5.Tastepic 6. Hey Pesto 7. Gateau et Chateaux 8. Ikea Family 
Today we bring you our final festive mood board inspiration and it is a rather special one.  Evocative of Christmas past, this mood board celebrates the heritage of the festive season, with a sentimental twist.
Select a colour palette of cream, dove grey and holly bed red; rich, warm shades to keep you feeling cosy as Jack Frost bites outside.  Use the red sparingly for maximum impact and accent with green from fir trees and other seasonal foliage.
This look is all about celebrating the excitement of Christmas from your youth and bringing to life the magic of the festive season.  Embrace the nostalgic sense of the look with a focus on natural elements and simple vintage styled elements such as glass bonbon jars and rich fabric red ribbon tied around presents, foliage and even in your hair.  And the ultimate accessory for this look?  Why it has to be the candy cane!
Created by Pocketful of Dreams, to provide a little inspiration for your party or event.
Are you loving the nostalgic feel of this Christmas look?
For more festive inspiration, follow our Christmas board here.
Michelle xx
POSTED IN: Inspiration, Mood Boards

TAGS: Bridal Inspiration Board, Christmas Inspiration, Christmas Party, Christmas Wedding, colour inspiration, Event Design, Event Planning and Design, Event Styling, Grey, Inspiration Board, mood board, nordic, Nostalgic-Christmas, PArty Mood Board, Pocketful of Dreams, Red, scandi, wedding ideas, Wedding Inspiration, wedding mood board, Wedding Styling, White, Winter Wedding, wood