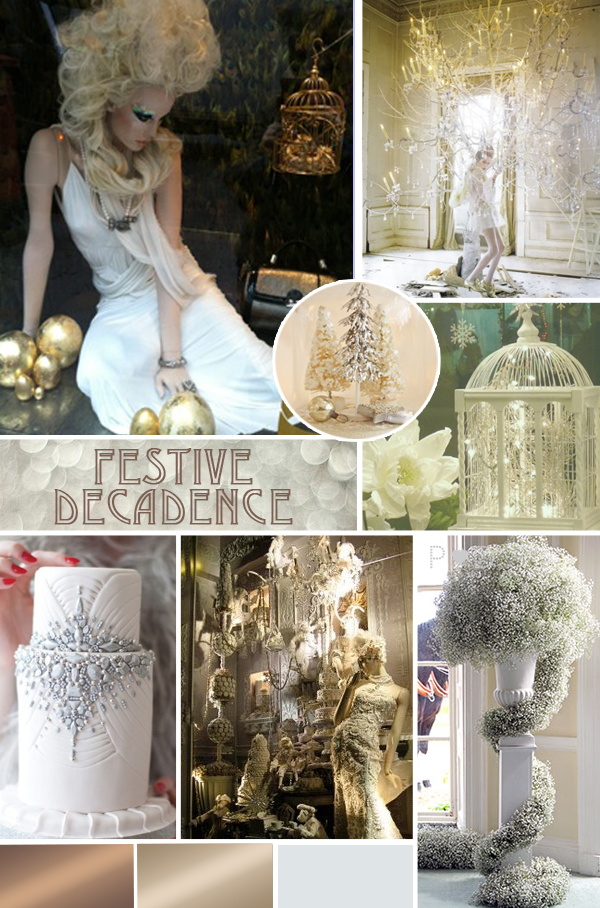 Image credits: 1. Blue Sky Butterfly Studio 2. The Flowerchild Dwelling 3. A Field Journal 4. Mochatini 5. Pinterest 6. The Glitter Guide 7. Aaron R. Thomas 8. Philippa Craddock
Today's mood board is the perfect look for all you glamour lovers out there, injecting a healthy dose of  elegance into your Monday morning!  This is actually a design that we created for The State of Grace when they were kind enough to ask if we would like to style their Christmas windows at their new showroom.  Of course we leapt at the chance and set off to create a look that was befitting of the stunning work created by Lucia and her team.
Our starting point for any work is to focus on the client – who they are, what makes them tick, what they stand for – and to build a design concept based on that understanding.  The State of Grace creates the most beautiful bespoke attire and accessories and so we knew that we wanted to create a design that was appropriate for the festive season but which emodied the sumptuous elegance associated with The State of Grace.
This look therefore is all about drama and decadence but presented in a chic and elegant fashion.  Think twinkling candlelight, luxurious materials such as silk and satin which are just begging to be touched and shimmering jewels, interspersed with feathers and florals to soften the look.
This style screams high drama, so do it justice with a rich and warm colour palette of soft golds and creams which maintains the festive tone but keeps your design looking chic.
Created by Pocketful of Dreams, to provide a little inspiration for your party or event.
Anybody inspired to re-create this decadent look at home this Christmas?
For more festive inspiration, follow our Christmas board here.  And make sure you pop back this afternoon as we show you how we translated this inspiration into reality at The State of Grace showroom.
Michelle xx
POSTED IN: Inspiration, POD News, Portfolio

TAGS: Christmas, decadence, elegant, festive mood board, gold and creams, inspiration mood board, PArty Mood Board, sumptuous, The State of Grace, wedding mood board