Are you dreaming of chestnuts roasting open an fire?  Then you will love today's festive inspiration board, designed to capture the magical nostalgia of Christmas.   And as you know, here at Pocketful of Dreams we like to not ony bring you the inspiration but show you how to make your design dreams a reality.
So this afternoon we are sharing with you our Nostalgic Christmas styling guide, full of ideas for decor, details and a shopping guide…be quick and you can still recreate this look in your home this Christmas.
NOSTALGIC CHRISTMAS DECOR & DETAILS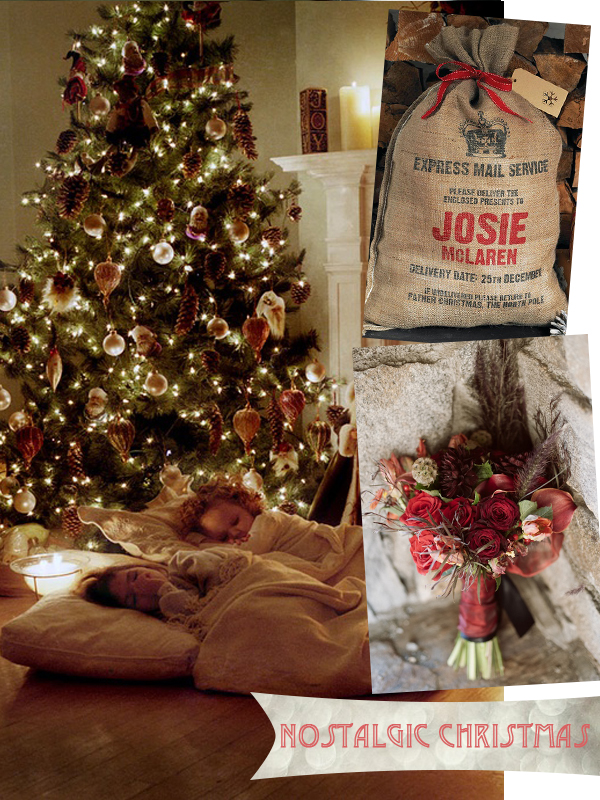 Image credits: 1. Best Home Decorators 2. Not On The High Street 3.  Love Of Fair Events
The undeniable starting point to this look has to be the tree: a real fir as tall as your house will allow, ideally placed next to a stone fireplace complete with a roaring fire!  Decorate your tree with pine cones and a range of vintage glass decorations and red and white baubles to ensure this becomes the focal point of your home this Christmas.  Pile up tartan blankets round the bottom of the tree so friends and family can snuggle up together in front of the fire and shake the presents under the tree when nobody is looking!
Look for traditional decor items to style your home be those glass dishes filled with baubles, hessian or red felt stockings or sacks and ideally, bring out the decorations your children – or even you – made and display them prominently.  This look is about celebrating heritage, tradition and bringing family and friends together; think sentimental displays rather than crisp, chic styling.  You want to create an environment that is warm and cosy for you and your guests.
NOSTALGIC CHRISTMAS SHOPPING GUIDE
1.  These traditional red and white striped Christmas Candy Canes look fantastic displayed in vintage glass vases or bonbon jars.  They also make the perfect stocking filler; opt for a personalised option like this fabulous Personalised Burlington Christmas Sack which would look perfect propped up against the fireplace.
2. This Skandi Tree Platter from Tesco is a great price and perfect for displaying festive treats if you can bring yourself to cover up the cute bird pattern!
3. These Linea stencil gift tags from House of Fraser would add a stylish spin to your presents this Christmas; so pretty people will want to keep them after they've ripped through the wrapping paper!
4. Jingle all the way with this set of traditional sleigh bells which would look perfect hanging on your tree, on door handles or dotted around the house. Cox & Cox currently have 20% off all festive items ordered before midnight on Wednesday so get in there quick!
5. Make delicious home made treats with these Christmas tree cookie cutters from Cox & Cox.  They even come with a little round cutter so you can put a hole at the top of each cookie and hang them from your tree.
6. This felt snowflake garland can be used for anything from decorating your mantelpiece to wrapping adornments on the presents under the tree.  Whatever you use it for, the holly berry red is bound to add some festive cheer to your home.
7. Without a doubt my favourite tree decoration I have seen this year, this Linea Frosty jumper decoration is the perfect style for our Nostalgic look but with a playful, tongue-in-cheek reference to the Christmas jumper!
Warm, cosy and evocative of all the best bits of Christmas past you can't fail to love this nostalgic look.
Vicki xx
POSTED IN: Inspiration

TAGS: Christmas, Christmas Decor, christmas flowers, christmas past, christmas styling guide, festive, festive inspiration guide, festive shopping guide, Nostalgic-Christmas, Shop the Style, shopping guide, traditional christmas