If you cast your mind back to October, you may remember that here at Pocketful of Dreams, we are a little bit obsessed with pumpkins; not only to eat but also to use as decor.  So imagine our glee when the very talented Alex Knight Photography shared with us a beautiful Autumnal wedding, featuring you guessed it, pumpkins.  And their glittery!! You are going to love this one folks…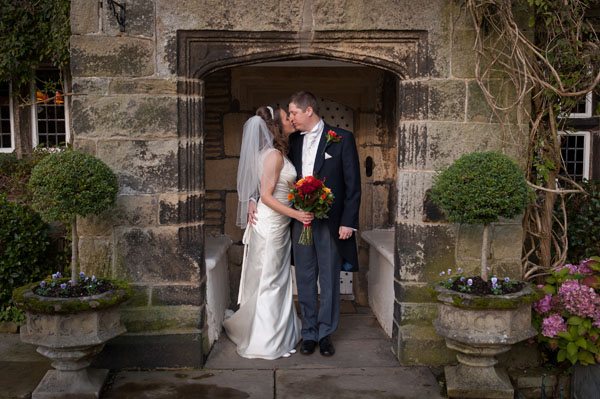 Daniel and Claire met at work after both attending the same training course in September 2009.  After the course, Claire told me that she received an "odd email" from Daniel, before he plucked up the courage to ask her out on a date.  With Claire living with her son in Leeds and Daniel meeting in Manchester, they met up whilst Daniel was working in Leeds and their relationship blossomed over a series of dinner dates.  After eighteen months of only seeing each other at weekends though, the couple knew they needed to make some big decisions.  "Dan finally got a transfer to Leeds and we moved in together" Claire said  . It wasn't long before Dan proposed and here we are living happily ever after!"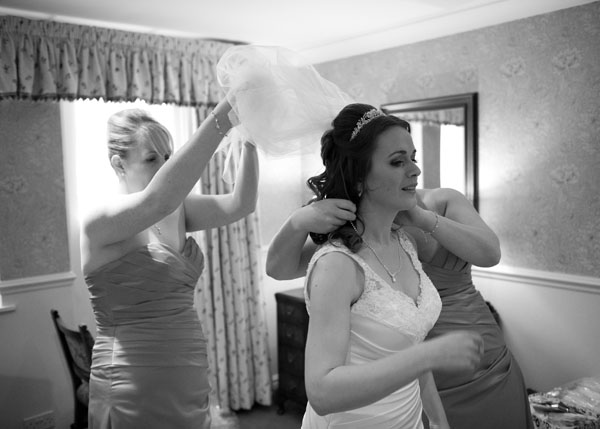 STYLING THEIR DAY
The couple set about creating a wedding that was "classic, simple and elegant" and got married at the start of November this year.  "I loved that we chose to get married between Halloween and bonfire night. I love this time of year when the leaves are falling from the trees and all the autumn colours fill the landscape! We decided to go with this autumunal theme for our wedding being inspired by our surroundings".  I couldn't agree more with their styling decisions; Autumn provides such a rich and beautiful colour palette to work with.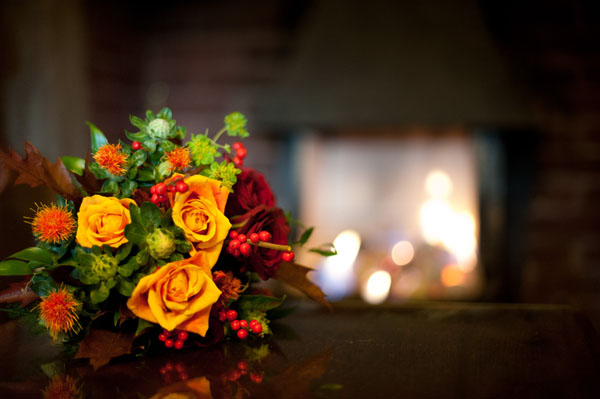 So the couple decided on a colour palette of gold and burnt orange and looked to magazines for ideas of how to incorporate natural elements into their wedding decor.  "We used twigs in the wicker hearts and the tree design on our wedding cake to try and accent the Autumn outdoors.  I picked up various pieces of ribbon and candles which I loved the colour of and tried to incorporate them into our design plans".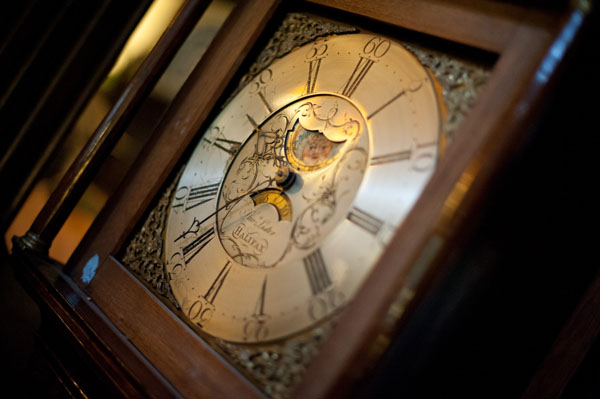 Daniel and Claire also chose outfits for their day which complemented their elegant styling and Autumnal influences.  "My wedding dress was absolutely perfect; full of bead work but still simple and elegant – exactly what I had imagined! I wanted a figure hugging dress and something comfortable to wear all day. My bridesmaids wore beautiful burnt orange dresses which had the same ruching as my wedding dress so as to complement it.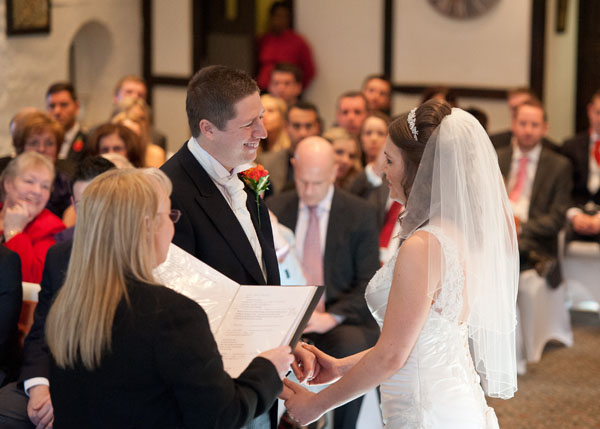 We got all 3 dresses from Celebrations Bridals in Ossett. Such an amazing shop where Sandy and Debbie really pulled out the stops to give me and the girls beautiful fitting dresses! The girls wore their hair up in elegant French rolls and we chose simple yet stunning gold jewellery to set off the orange. The boys wore navy and again we used red and orange colours for button holes to complement the autumn theme with burnt orange cravats to match the bridesmaids."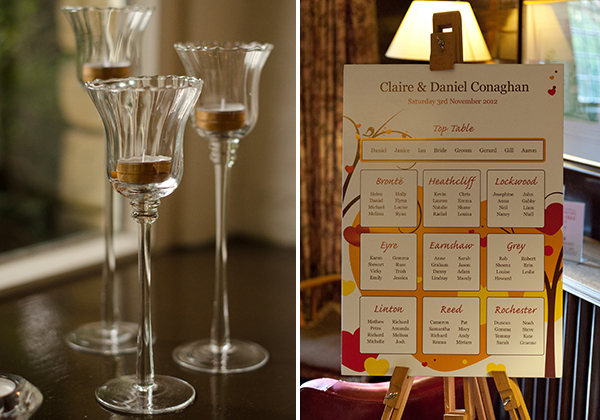 The couple also thought carefully about how they could ensure the day was truly personal to them.  "We picked our ceremony songs together and designed a dinner music album full of Sinatra and old classics which reminded us of when we were children.  We also made a picture frame filled with pictures of family and friends which reminded us of the best times in our lives".
AN EMOTIONAL DAY BRIMMING WITH DIY TOUCHES
For Daniel and Claire, their wedding was a particularly emotional day.  "A couple of special people in our lives unfortunately passed away in the couple of months leading up to our wedding, making it an emotional day. These months prior were pretty hectic and filled with so many ups and downs. Finally making it to our wedding day and seeing everyone happy, relaxed and enjoying themselves was the best feeling for us both and really added to our enjoyment!"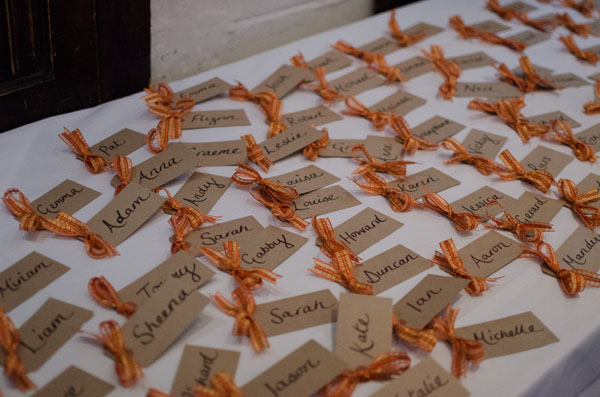 Claire's favourite stage in the planning process was shopping for her dress.  "It was really special to spend time with my mum, mother in law and bridesmaids – as of course these trips included lunch and plenty of wine!"
She also however, found through her wedding planning a new found enjoyment of DIY.  "I also enjoyed being creative. I wouldn't say I am a crafty person, but the things I created for the wedding were so enjoyable to do. It always feels good to create something yourself and know you have saved a fortune on the cost of just buying something in. It also adds the personal touch to what is such a personal day!"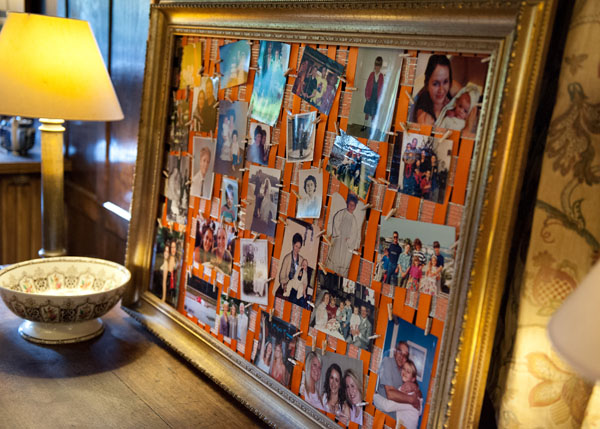 Indeed, their wedding was brimming with beautiful DIY details as Claire told me.  "I made all of the place settings myself from my lovely ribbon and brown luggage tags from eBay.  I also made the wicker hearts myself, spray painting a 'D' and 'C' in gold paint.  I then bought autumn berries and found some old Christmas decorations to decorate the hearts to put on the doors.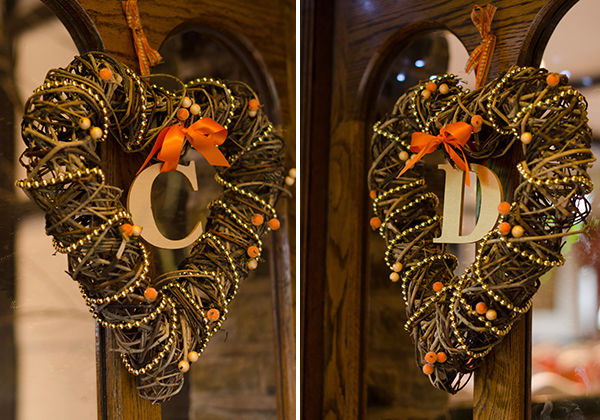 I created a photo frame by buying an old picture in a junk shop. I took the picture out of the frame and suspended ribbon throughout it so we could peg all of our photographs onto it.  My dad and I made chutney for favours, again using ribbon and luggage tags to label the different varieties.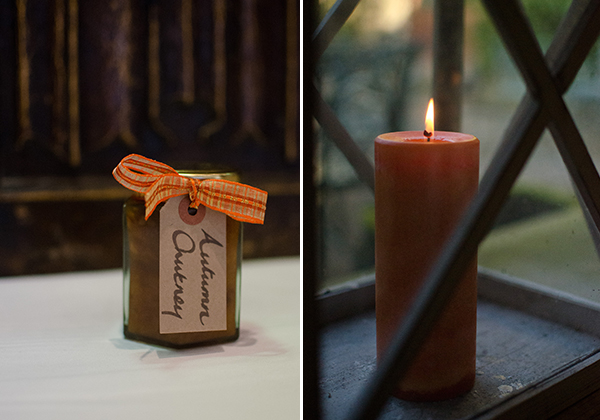 The best idea though was definitely our glittered pumpkins for centrepieces. I went to a pumpkin farm in Pontefract two weeks before the wedding and selected my own 'mini' pumpkins. I then cleaned them up and spray glued before dusting with glitter. They looked so effective by candlelight and really accentuated the 'autumunal' theme!"  And Claire thinks she isn't a craft person!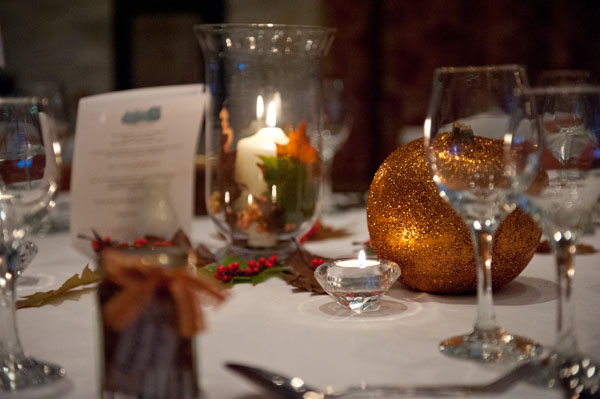 For Claire and Daniel, two moments from their wedding day really stick in their minds.  "My favourite moment was saying my vows to Dan. The words were so beautiful and promising to love and cherish someone forever in front of all of the most important people in your life is pretty special!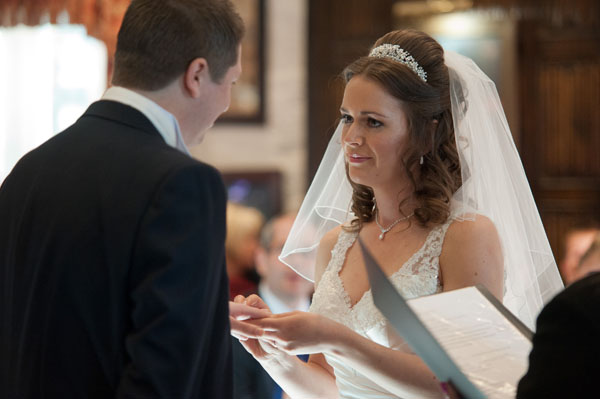 I also loved our first dance. We sang to each other as we moved round the dance floor and it really did feel like we were the only two people in the room!"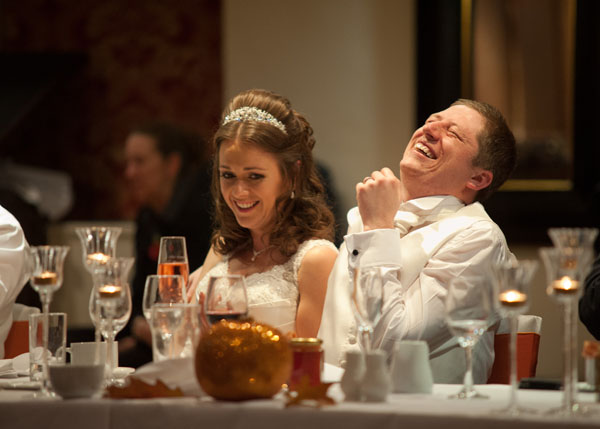 TOP TIPS FOR A TIP TOP DAY
Daniel and Claire had these words of wisdom for anyone out there planning their wedding:
I would say choosing the venue is something to be careful of; take time and ask lots of questions to make a good decision. 

If you don't get a good vibe from the people you are working with then don't book! It is so important to like the people you are working with and to be able to trust that they will do exactly what you ask for. It is the most important day of your life and no doubt it will be costing you a lot of money!  You should expect good service.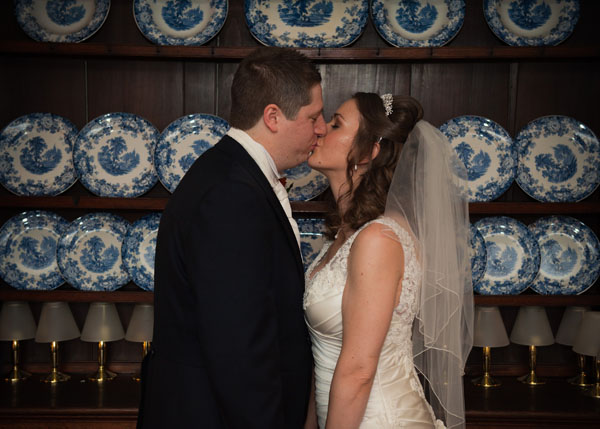 Thank you to Alex and Sophie for sharing this wonderful wedding with us.  Are you loving those glittery pumpkins as much as we are?
Vicki xx
ALL THE DETAILS
Venue: Holdsworth House Hotel
Photographer: Alex Knight Photography
Claire's Dress:  Ella style 5517 bought from Celebrations Bridal in Ossett, Wakefield
Claire's Shoes: Celebrations Bridal
Claire's Accessories & Jewellery: Celebrations Bridal
Daniel's Suit & Shoes: Moss Bros & Aldo
Floral Designer:  Andrea at Flower Power in Rothwell, Leeds
Caterer: Holdsworth House Hotel
Rentals:  Jo at Balloonin Marvellous, Wakefield (chair covers & candle holders)
Cake Supplier: Blooming Cakes