Today's wedding is full of rich colours, beautiful details and such emotion that I just knew I had to share it with you all.  Captured to perfection by Dan and Melissa Photography, it is a great example of how rain really doesn't have to spoil your wedding day!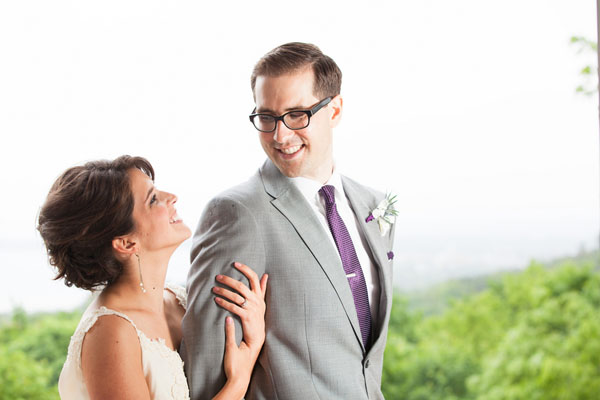 Emily and Paul are both from Michigan and met in their third year of medical school.  They got married in June this year, shortly after graduation, after a courtship full of study dates and clinical work.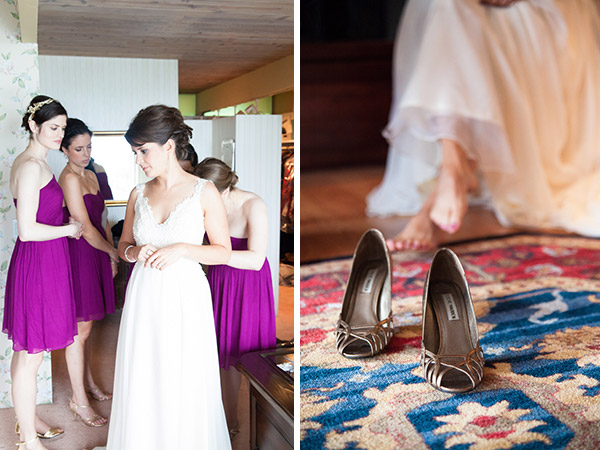 STYLING THE DAY
From the outset, Emily and Paul were keen to make sure that they created a look for their day which perfectly complemented their everyday style and personalities.  They also had a clear vision of what they hoped to achieve with Emily telling me that they "wanted all our family and friends to feel comfortable and welcome at our wedding".  By keeping each other and their likes at the forefront of their minds throughout the planning process, they set out to create a "casual, country elegance" look.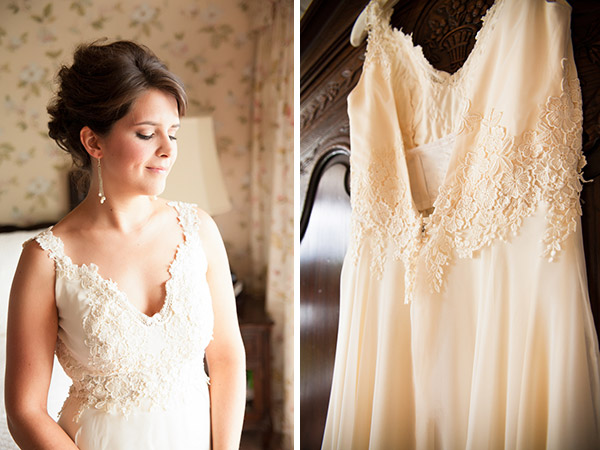 "We had a beautiful backdrop for our ceremony outside overlooking the water, so we hoped to emphasize the natural beauty of the setting with special details. We both have an appreciation for nature and simple pleasures and wanted to reflect that on our big day. We repeated a subtle "love bird" theme throughout the décor to reflect our enjoyment of time outdoors as well as Paul's love for bird watching".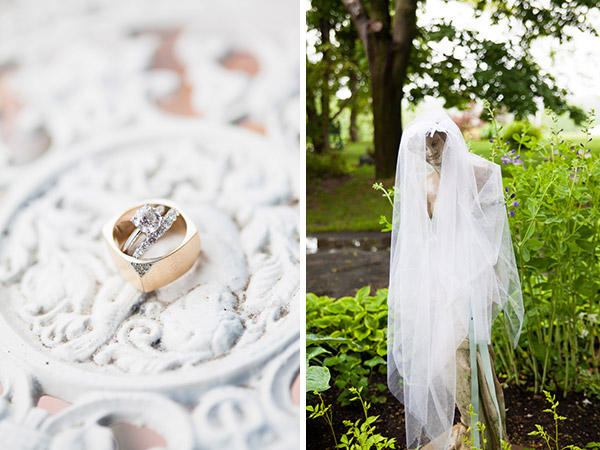 The couple served an array of delicious food throughout the day, with appetisers after the ceremony imaginatively served in copper jello moulds and tins!    As Emily isn't a huge cake fan, the couple had a simple cakes but then went all out on dessert with a Make Your Own Sundae Bar from their local ice cream shop!  The couple even created their own ice cream flavour for the day!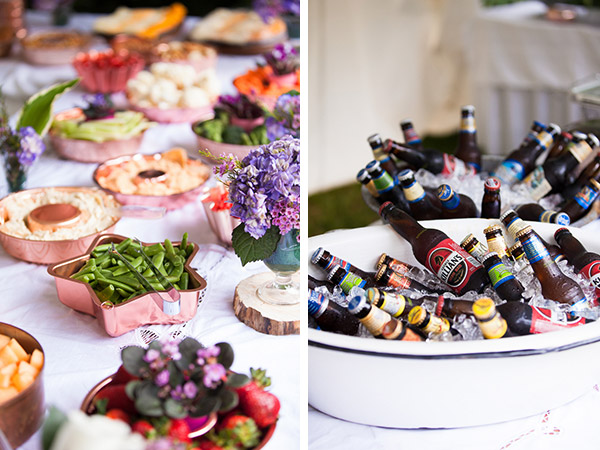 Emily and Paul brought to life the casual elegance they were aiming for not only through their decor but also through the outfits of their bridal party.  "Groom and groomsmen were in slim fit gray suits, which they will be able to re-wear in the future. They all looked very sharp and modern without being overly formal.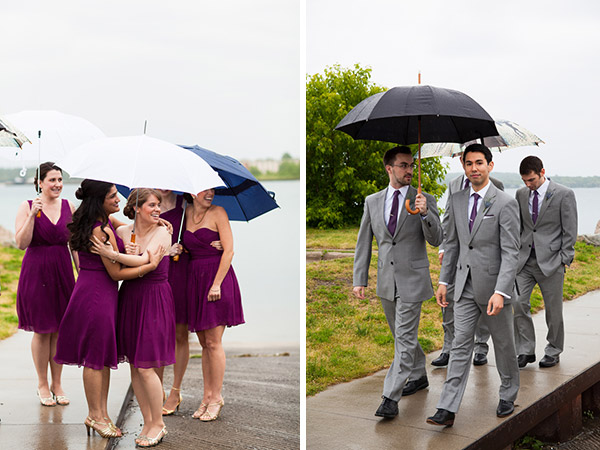 Bridesmaids all wore the same color and fabric in their dress, but were able to choose the cut. That way everyone was able to wear something that they looked and felt great in. They also were able to choose hair, shoes, and jewlery that they liked. No sense spending a fortune on something they can't wear again".  Great, practical advice from Emily – ensuring your bridal party are comfortable and feel good in their outfits means they can fully enjoy the day.  And it will show in the photographs!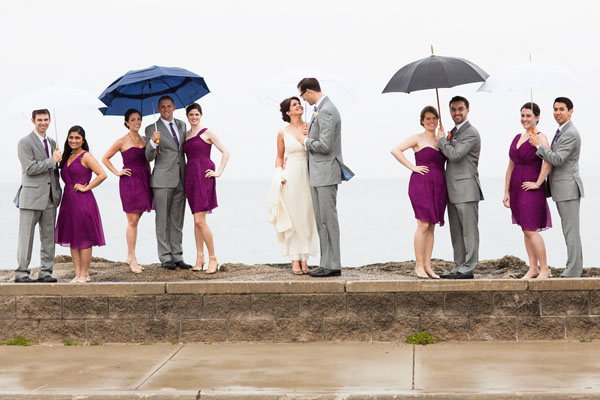 A EMOTIONAL DAY BRIMMING WITH DIY DETAILS
I love the vibrant flowers in this wedding and many of the floral elements were in fact DIY'd by Emily.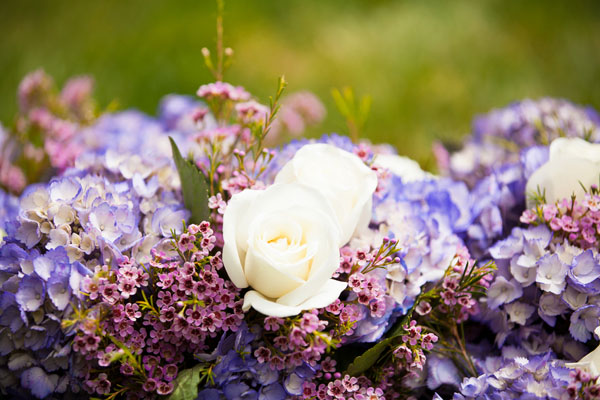 "Floral center pieces and decorations were homemade using bulk flowers bought online. We then placed the center pieces on log slabs which contrasted with the antique milk glass vases we had displayed".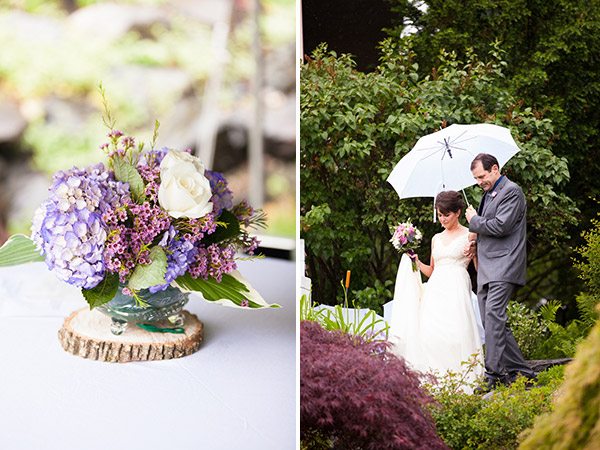 Many other elements of the day were also hand crafted: "We bought generic stationary and had it professionally printed. We then made the place markers by cutting out bird shapes and then setting them into a wine cork to mark each guest's place.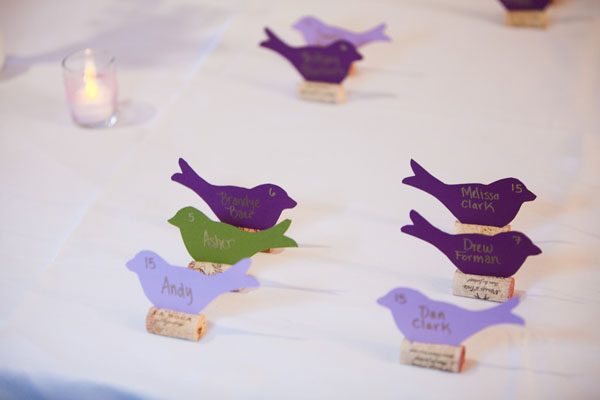 Seeing everything come together in the end made all the planning worthwhile" Emily told me, "especially the flowers has they had such a dramatic impact on the overall ambience".
The biggest surprise of the day was the fact that the couple had a cold and rainy day in a summer of drought but they were well prepared with a set of white umbrellas and in no way let the weather spoil their enjoyment.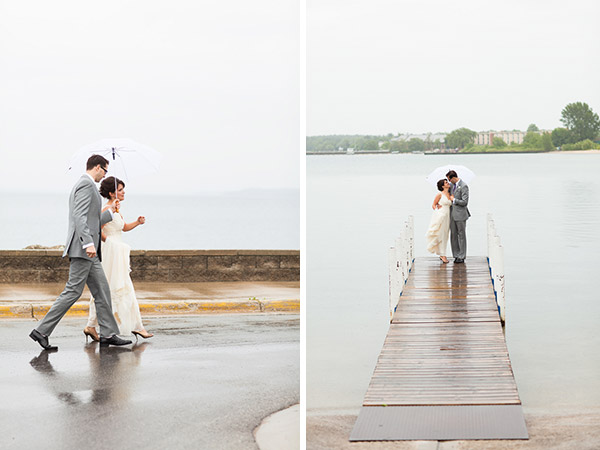 This wedding day was also an emotional one, with Emily choosing to wear her late Mother's wedding dress for the ceremony.  "It was a surprise for everyone including my family and bridesmaids and especially the groom. I had the dress altered to be more modern while still maintaining the essence of my mom's original dress. I wore a fun knee length dress for the reception, so I was able to dance and enjoy the party!"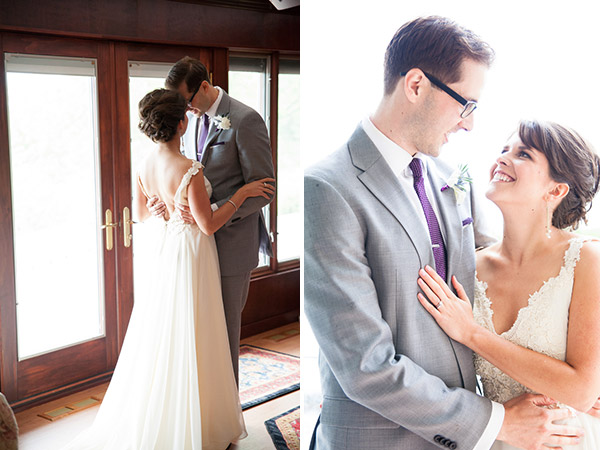 With this beautiful way to remember her Mother on her wedding day, Emily actually had two first looks – one with Paul and one with her immediate family.  Both of which were hugely emotional and poignant moments.
For this sweet couple, the ceremony itself was their favourite part of the day.  "The ceremony was very intimate and personal; it really spoke to us as a couple in the context of our surrounding family and friends".  And that ladies and gents, is what it's really all about.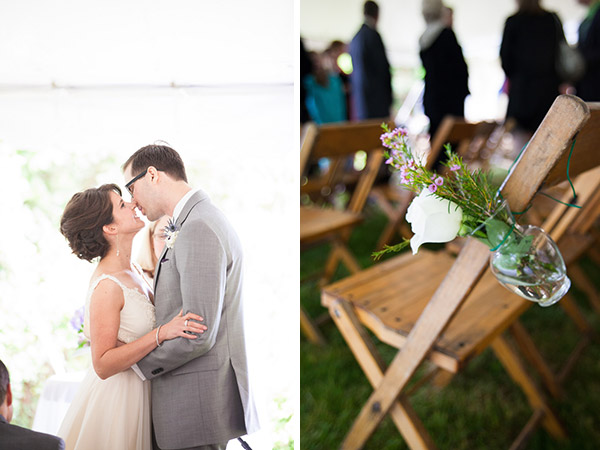 TOP TIPS FOR A TIP TOP DAY
Emily and Paul had this advice to share with other couples planning their wedding:
Consider having a First Look before the wedding ceremony – that way you have time to enjoy with your guests between the ceremony and reception instead of taking a few hours to do your photos. It is a really special moment of calm, clarity, and peace before the whole day's events kick off. 

Have some white umbrellas on hand if you have anything outside – just to be prepared.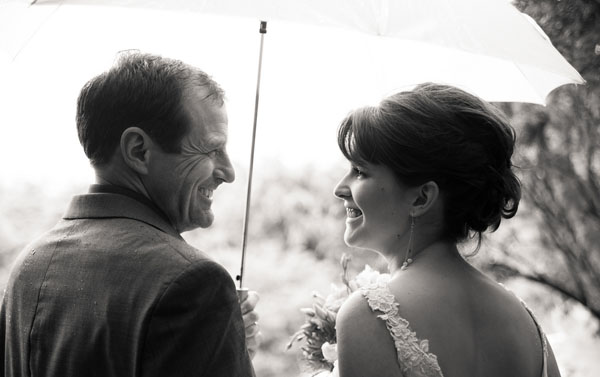 What a beautiful, heartfelt day.  And I love the vibrant purples in the wedding flowers.
Vicki xx
POSTED IN: Inspiration

TAGS: DIY Wedding, First Look, Melissa and Dan Photography, rainy wedding day, Real Wedding, two wedding dresses, wedding day umbrellas, wedding design, Wedding Flowers, Wedding Inspiration, Wedding Photography, Wedding Styling