I do hope that you were inspired by our Rough Luxe mood board this morning; the perfect alternative to a traditional Christmas look.  This afternoon we take a closer look at the styling options for this rustic style, showing you how to create impactful yet cost effective displays in your home.
RUSTIC CHRISTMAS STYLING: DECOR & DETAILS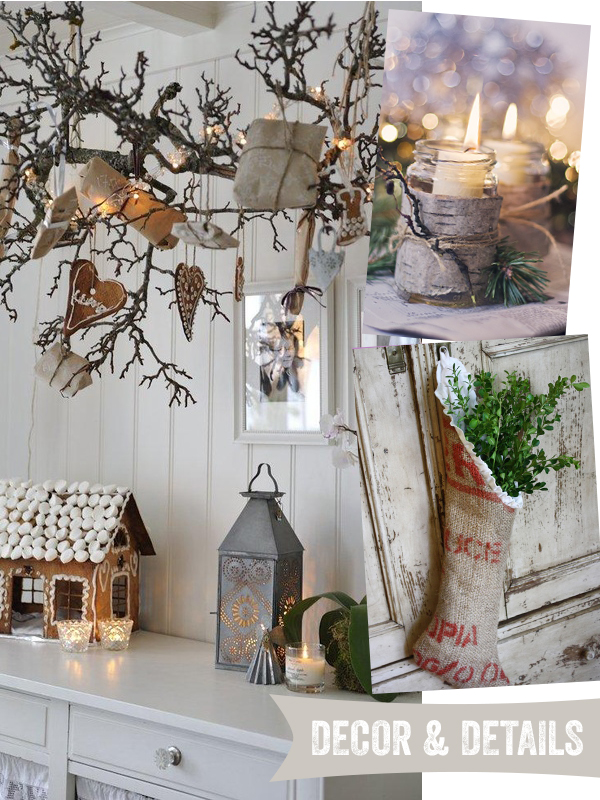 Image Credits: 1. Welke 2. Design Rulz 3. Smallwoods Studios 
This style is all about embracing the natural Winter environment and bringing the outdoors in so focus your attentions on materials like wood and burlap.  A trip down to your local park or woodland gives you the opportunity to gather fir cuttings and bare twigs which can be displayed in bottles, vases and galvanized buckets; just weight twigs down with sand and then add a hint of luxe by hanging some felt or lightweight vintage decorations from them.  Or for a high impact look, why not take your scavenging to the next level and get a larger branch which you can hang from the ceiling over a mantelpiece or table and then decorate with baubles or small lanterns.
Add warmth to your look with candle light; opt for simple glass votives and galvanized metal lanterns or again look to introduce a natural element by decorating jam jars with bark, fir and twine before placing a candle inside.  And what could be more perfect than a hessian stocking hanging casually from your fireplace?
SHOP THE STYLE
1. These Birch Bark Noel Trees from Nordic House come in two sizes and are the perfect decor piece for your Rustic Luxe styling, providing an alternative Scandinavian vibe to your home.
2. This Jute Christmas Stocking is the perfect way to collect your presents from Santa this year; simple, understated and yet oh so stylish.
3. These Clear Hanging Tealights from Nordic House are perfect for displaying around your home and would look beautiful hanging from a bare branch.  The convoluted shape of the glass adds interest and texture to your decor.
4. If foraging through the undergrowth really isn't your style then this Frosted Winding Ivy Garland from The White Company is the perfect alternative.  Twist around bannisters, across a mantelpiece or around light fittings for a beautiful display.
5. The Blue Carrot is a small cut flower garden based on the Roseland peninsula in Cornwall who specialised in organically grown blooms and foliage.  And if you want a Christmas wreath with a twist, why not give them a go?  This rough and textural wreath is the perfect accessory for our rustic look.
6. Perfect for hanging on your front door or within the home, this Christmas Heart Wreath made from plaited twigs looks beautiful as it is or why not weave in some heather, lavender or your favourite flowers?
I am just loving this look and the fact that you can create such beautiful decor displays without having to spend a fortune.  Anybody else planning a forage for twigs, pine and holly cuttings this Winter?
Vicki xx