This morning we are sharing a gorgeous mood board we recently created for Love My Dress that was inspired by the Spring 2013 catwalks.  We like to keep a beady eye on what is happening in the world of fashion and we couldn't help but notice that the Spring 2013 catwalks were awash with a variety of colours including some fabulously strong and energising colours.  A consistent theme across the fashion houses though was the use of palettes that mixed these dynamic, strong colours with neutral shades and this is something that we also recommend in the world of event design.  Balancing bold colours with calmer, softer shades helps to create a balanced look that will ensure you excite and grab the attention of your guests without overwhelming them.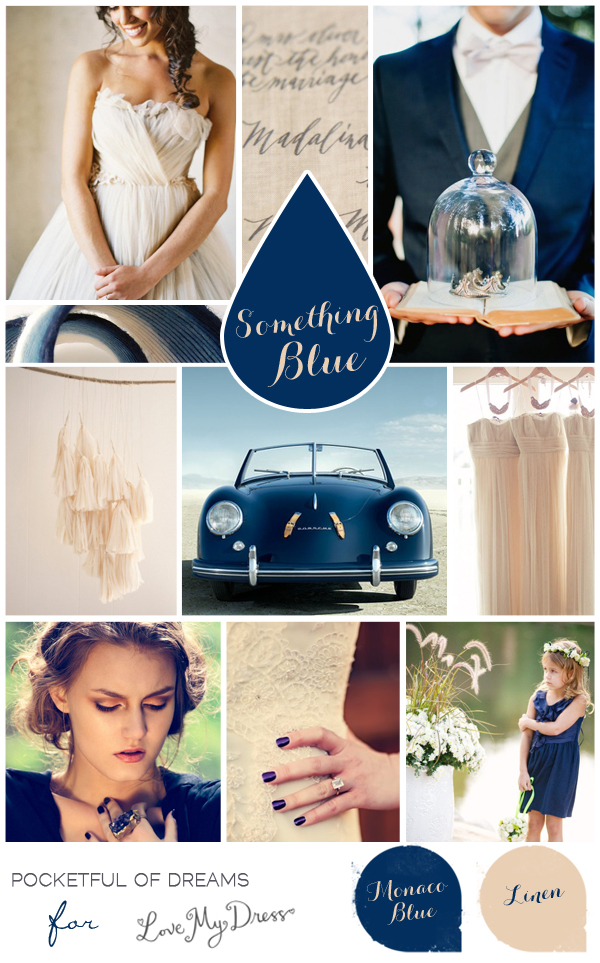 Image Credits: 1. Jose Villa 2. Style Me Pretty 3. A Southern Tradition 4.Mila 5. Bijou and Boheme 
6. Arbiter Elegante 7. A Southern Tradition 8. Tawfick Espriella 9. Juxtapost 10. Glamour
One of our favourite colour combinations from the Spring catwalks was Monaco Blue – a gorgeous, rich shade – and Linen – a light and airy, barely-there colour.  The classic shade of the Monaco blue adds depth to the palette and is a great one for the boys as it lends a masculine edge to proceedings which is effortlessly softened by the romantic hue of the linen.
Opt for understated yet luxurious decor and details and prepare to wow your guests in a coloured gown crafted from diaphanous fabrics.  The overall look: classic, somewhat preppy, sophistication with a soft twist.
Created by Pocketful of Dreams, to provide a little inspiration for your party or event.  Pop over to Love My Dress for the full set of boards for this look.
We adore creating beautiful experiences, which start with creating design concepts and mood boards just like this one. If you'd like to find out more about our design, styling and delivery services and how we can create a unique wedding tailored to your own personal story, then email Vicki@pocketfulofdreams.co.uk.
Michelle & Vicki xx