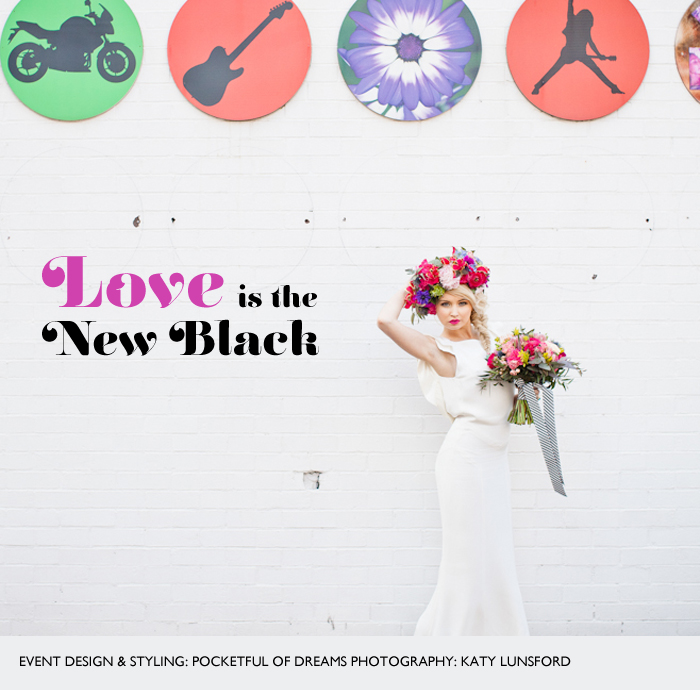 Way back in March this year we got together with some of the Wedding industry's most talented creative minds to create an inspiration shoot bursting with wedding ideas for the modern couple wanting to do things a little differently.
Our inspiration for the shoot was to showcase something creative, vibrant and above all fun. We've lost count of how many conversations we've had with brides-to-be about how the romantic soft and pretty look just isn't them. But when that's all they have seen or known for weddings before they find themselves swayed down a route they didn't want to go, thinking it's the norm.
We wanted to show that there is another way, that bold and bright, done right can look incredibly stylish.  People are often afraid of using colour and pattern for fear of it looking garish or dating too quickly but we're huge advocates of both at our events and think this is what can give a wedding day the right amount of flair. So with this in mind we set our creative minds to work on a striking monochrome scheme mixed with lush bold brights and our concept Love is the New Black was born.
Monochrome may be this year's hot-ticket fashion trend but it's one that will always remain a classic and therefore be unlikely to date too quickly. We balanced the bold look of black and white with pops and swashes of bright colour here and there, punctuated with organic and textural details for a striking yet sophisticated aesthetic.
Pop back tomorrow for our expert wedding styling tips to using bold monochromes and bright colours at your own wedding or event….

A massive thank-you to the incredible team who helped make this shoot happen:
// DESIGN CONCEPT & STYLING: Pocketful of Dreams
// PHOTOGRAPHER: Katy Lunsford Photography
// VIDEOGRAPHER: Reel Weddings
// VENUE: Photolink Studios
// BRIDAL GOWNS: Belle & Bunty + Kitty & Dulcie
// SHOES: New Look + Ted Baker // ACCESSORIES: Quanitrelle Millinery + The Velvet Village
// DECOR ITEMS: Amara, Peach Blossom, Not On The High Street + Ikea
// CAKES: The Airy Fairy Cake Boutique // MACARONS: Jo Moss // STREET FOOD: Chaart Cart
// FLORIST: Frog Flowers // PAPER GOODS: Pocketful of Dreams
// MAKEUP & HAIR: Flossy and Leigh // MODEL: Olivia Stappleton from BOSS Model Management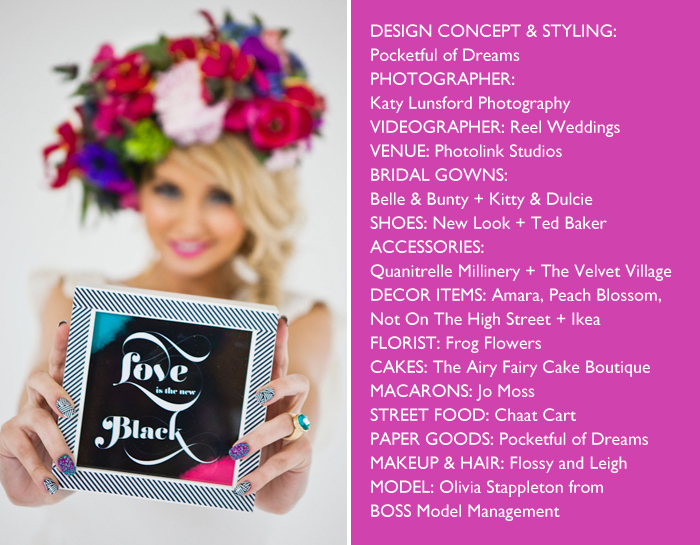 POSTED IN: Inspiration, Portfolio

TAGS: Bright Wedding, Colourful Wedding, Monochrome Wedding, Pocketful of Dreams, wedding accessories, Wedding Cake, Wedding Flowers, Wedding Gown, wedding ideas, Wedding Planner, Wedding PLanner North, wedding planner south, wedding planning, Wedding Style, Wedding Styling, Wedding Tables