With the start of the new year already off to a flying start, we've been looking at what's hot in the world of interior decor, events and fashion and today we're sharing our thoughts about the top design trends for 2014, what our 2014 wedding clients are asking for and what we expect to see over the next 12 months…
Over the past few years, rustic, shabby-chic and vintage influences have been strong throughout the wedding world but increasingly we're working with clients who above all else want personalisation. Couples are wanting their wedding to reflect a more unique perspective and see their wedding day as an extension of how they have carefully curated their own homes and sense of personal style. It's only natural to want your wedding day to reflect who you are now, we're also seeing a move away from the quest for timelessness as many couples realise it's almost impossible to achieve.  Styles change, aesthetics date and along with it come nostalgia and floods of memories, they simply want to look back on their wedding photos in 30 years time and think: "that was so us".
So whilst they may have an overarching aesthetic of romantic, traditional, eclectic or sophisticated they also want their wedding design to stand out.  The best way of achieving this is to surprise the eye with unusual combinations of materials, textures, colours and scale. Classic styling in the future will be reinvented, with subtle references to vintage antiquities but with a much more modern twist to make it more meaningful and personal for couples. We see the rustic / shabby chic style of old giving way to drama and opulence as a more sophisticated aesthetic comes into play.
Our 2014 wedding clients want their wedding days to be grounded in comfortable luxury with a sense of gravitas and fun, without compromising on style. Design elements with a personal and established legacy are being chosen over flea-market finds and eclectic mixtures of olde-world antiquities alongside trend-led pieces of decor and furniture provide the perfect personal feel to the design of their day.
COLOUR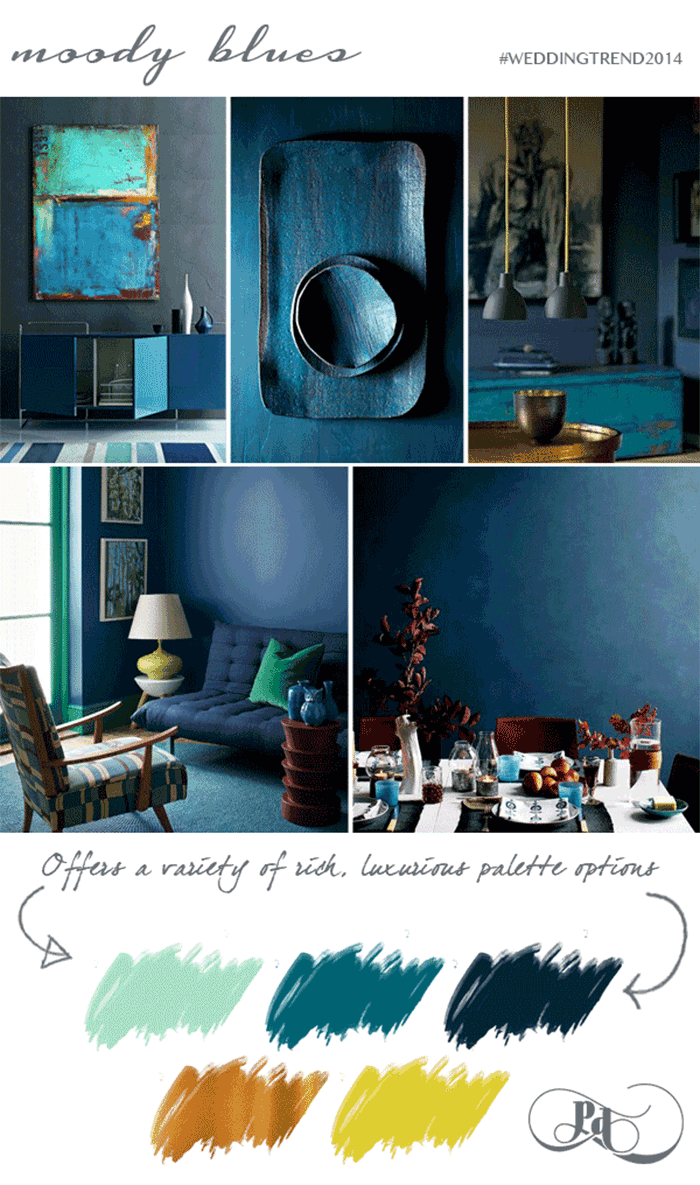 Moody Blues: Grey may have been the colour de jour across 2013 and as one of our favourite shades we expect it to continue to be popular but the cool kids will be moving towards moody blues, seen everywhere from the runways to the streets. This is a colour palette that offers such variation but also a certain sense of chicness with a variety of shades from navy to indigo, cobalt to peacock. This palette also works brilliantly with brights, muted shades, soft pastels and mixed metals. Dark and moody colours offset by metallic accessories are a great way of achieving a sophisticated and luxurious look.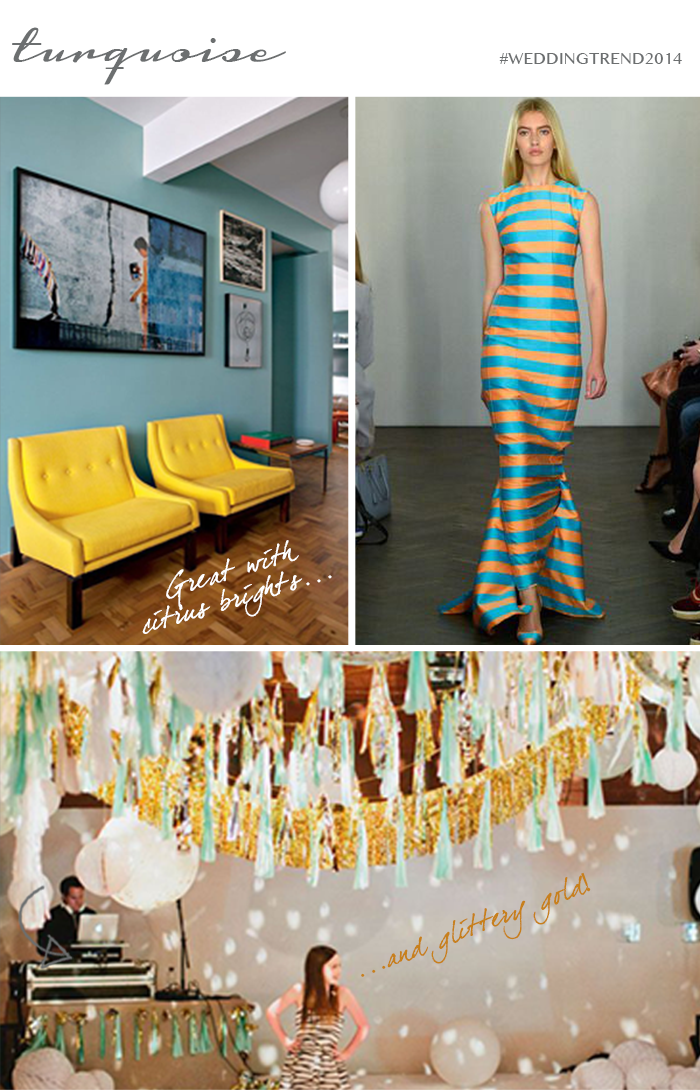 Turquoise: Whilst soft Radiant Orchid may be the Pantone colour of the year, the design world is going crazy for Turquoise. A colour that gained popularity around 8-9 years ago it is now having a resurgence. Michael Boodro, Editor-in-Chief of Elle Decor, says turquoise will be everywhere this year. "Turquoise showed up in upholstery, wall coverings, and on furniture. And we're talking deep and saturated, not pale and wimpy."
Another blue that has such versatility and as you can see here really pops when paired with other brights.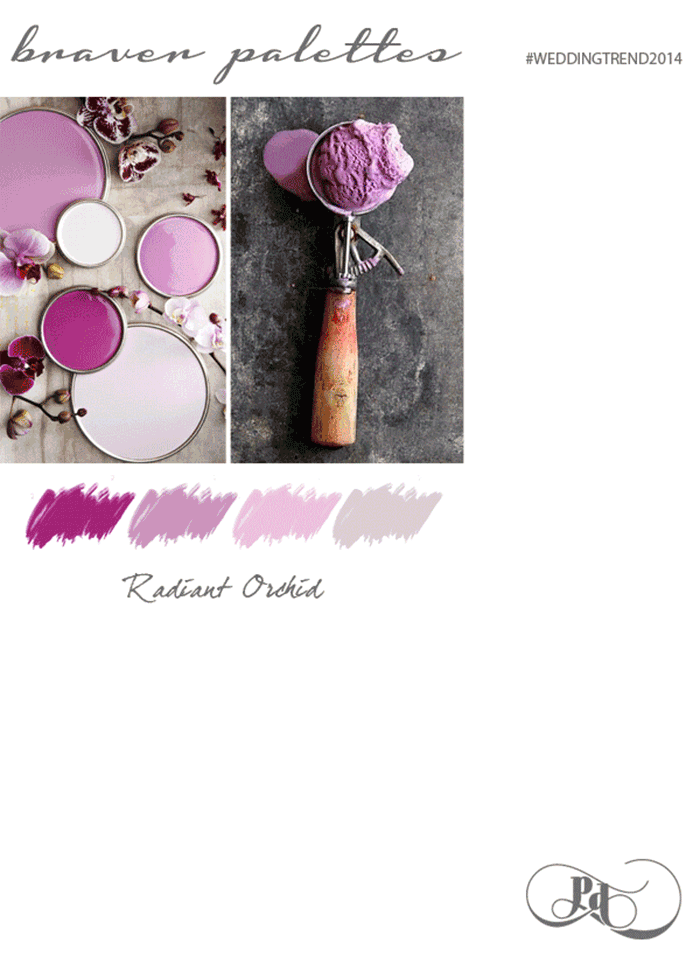 Braver Palettes: This is a trend that has been slowly emerging across event design for some time and will come into its own in 2014. Instead of opting for one lead colour with a small number of accents, colour palettes will become much braver and bolder, incorporating a wider variety into the whole palette, taking inspiration from nature and art.
Combining a mix of wild and bold lead colours with neutral bases that includes more than simply 'wedding white', elements such as mixed metals, shades of grey and even leopard print will be our neutrals.
These palettes will be fresh, dynamic and exciting and a stark contrast to the soft blush and pastel tones of old. We will be using some really interesting colour combinations across our weddings in 2014 bringing moody inky blues and deepest greens into play with bursts of vibrant hues like 2014's colour of the year Radiant Orchid, hot pink, aqua, sunset orange and yellow. And we couldn't be more excited!
DETAILS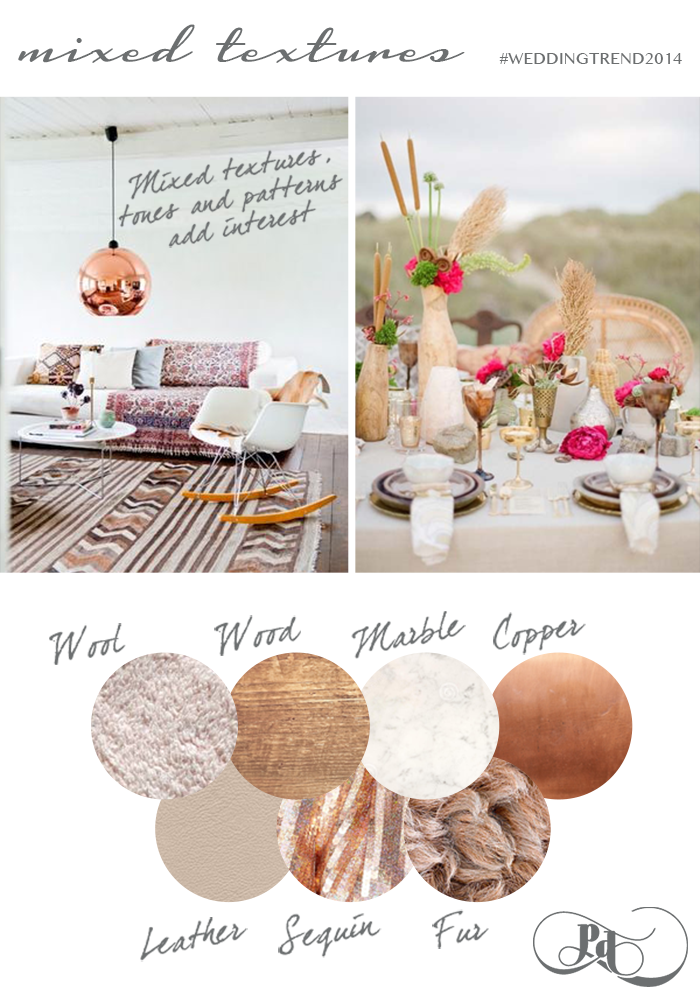 Mixed Textures: One key design trend that will be filtering through from interiors is the use of a variety of surface textures to give personality, warmth and refinement to a space. We will see much more thought given to surfaces from metallic and sleek acrylics to textural honey-toned wood grains and even fabric accents to add interest. Fine-grained woods sitting alongside slabs of elegant marble, the softest linens against clear acrylic perspex.  Be creative with gorgeous materials such as driftwood, moss, bamboo, sequinned linens, tinted glass and faux fur.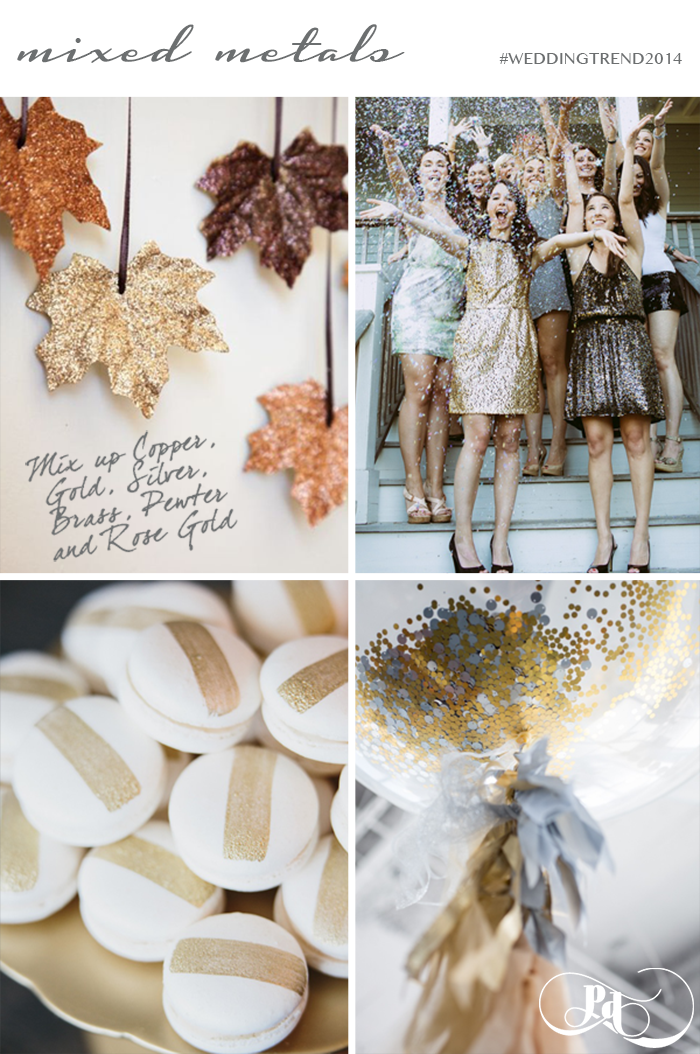 Mixed Metals: Mixed metals continue to be strong and many designers have shown it's no longer about having everything matchy-matchy with all silver accents or all gold. By bringing in a variety of metals from brushed to antique, brass, copper, yellow and rose gold you can add so much more depth and interest to your decor, adding a certain sense of effortless style.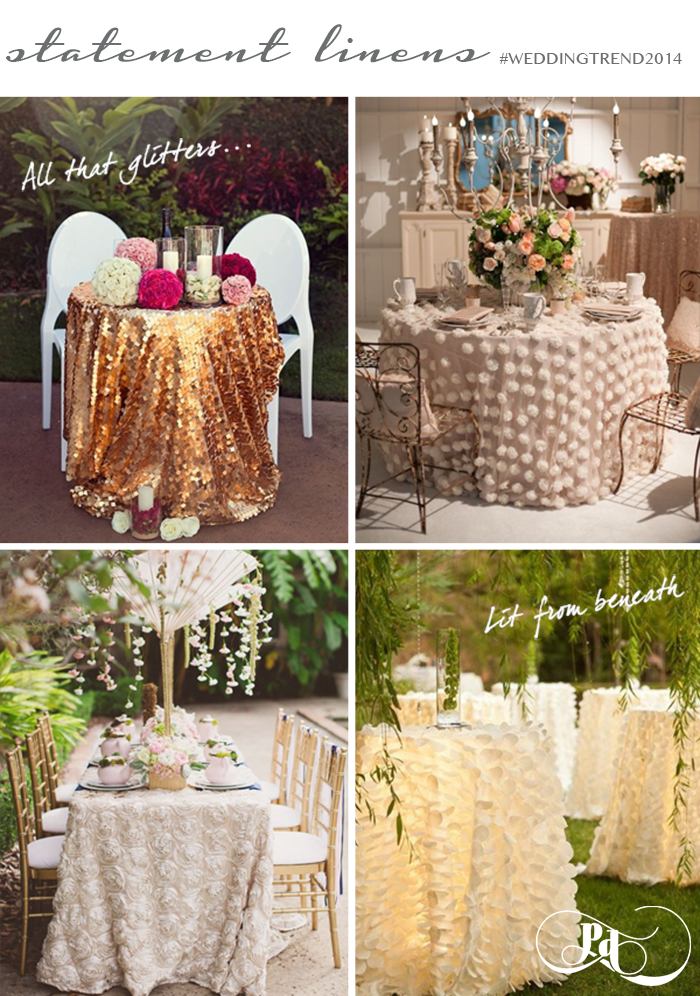 Linens: Out with the spandex and shiny tafetta! Linens are going to be all about texture and pattern, from sequins to animal print. We're seeing couples want to get more creative with items such as fabric table runners, making way for more creative solutions such as moss, stone and floral runners.  And we're pleased to say that chair covers – our personal pet hate – are out (as one of our 2014 Grooms said: "Why would you dress a chair up to look like a bridesmaid?")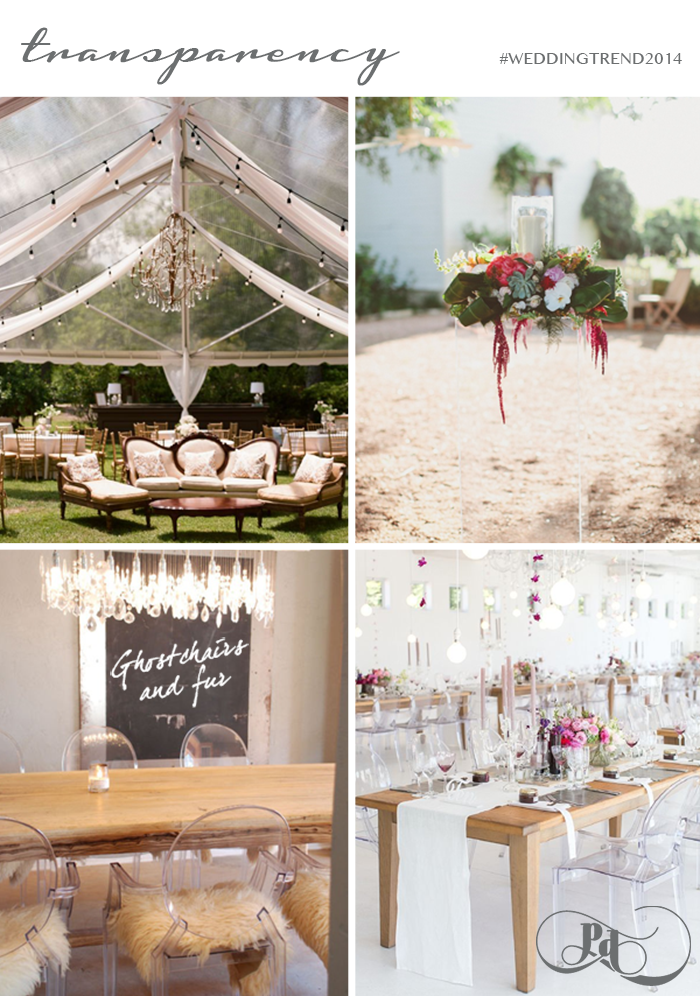 Transparency: Transparent is going to be the byword for cool this year and there are a myriad of ways that you can incorporate this trend into your wedding for a fabulously sophisticated day.  Lucite furniture will add an immediate impact, think ghost chairs for your wedding breakfast or clear high tables for your evening reception.  You also incorporate transparent decor elements into your day for a modern and chic effect.  Clear perspex on the day stationery such as that provided by Cleartouch from Cutture is sure to wow your guests and you can achieve dramatic displays using lucite risers to display floral arrangements.
And for the ultimate in embracing all things transparent, look to the venue of your day itself.  Clear tents are just starting to become available in the UK and are going to be big news this year.  Known as clear roof or glass roof marquees, these frame marquees add the ultimate wow factor to your wedding, enabling you to embrace gorgeous views and outdoor locations without concerns over the unpredictable British weather.  Clear roofs and walls can be added in sections interspersed with roof linings to avoid creating a greenhouse effect in warm weather and establish a dramatic focal point for your reception. Look to companies such as Academy Marquees, The Transparent Marquee Company and Key Structures for your own transparent wedding venue.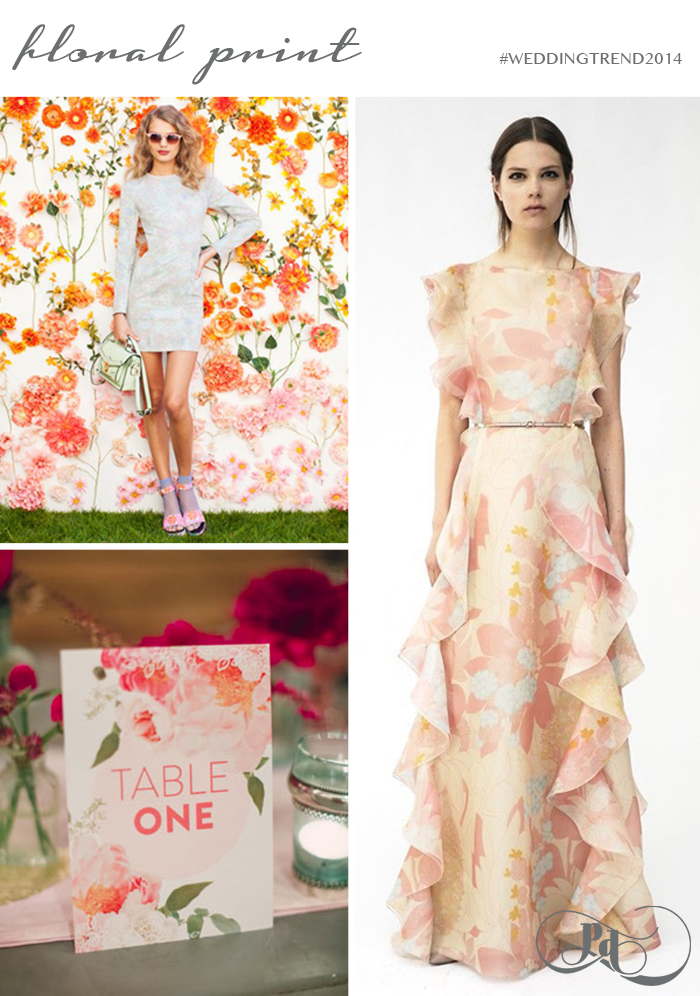 Blooming Marvellous: Flowers will be everywhere in 2014. Floral patterns are a key fashion and decor design trend for the coming year, building on the floral extravaganza we've seen in weddings over previous years. This year we will see a move away from the chintzy style however to more of a modern look, mixing florals with bolder graphic patterns as well as daring floral installations such as wow-factor entranceways and flowers hanging from the ceiling.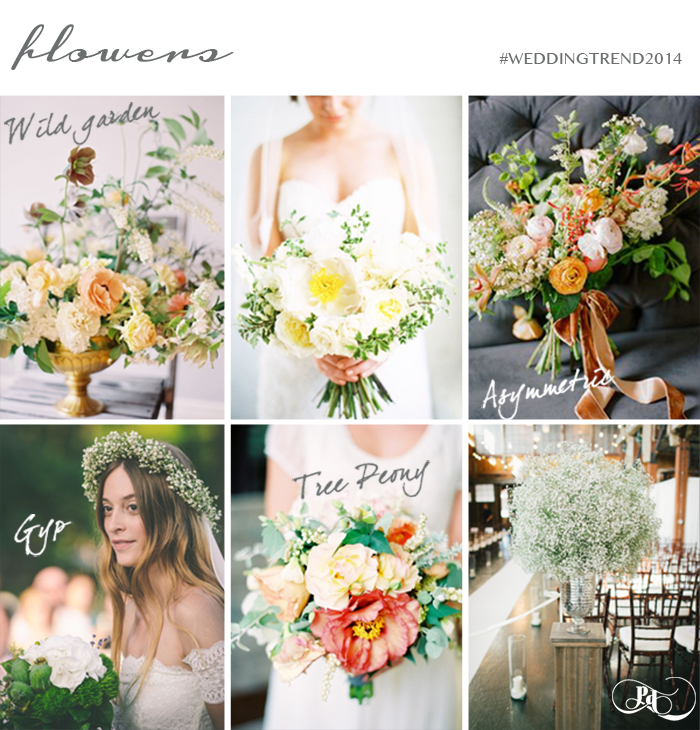 Expect to see unstructured, dramatic and wild arrangements using garden flowers, fern garlands and the inclusion of fruits and aromatic herbs.  Baby's breath – or gypsophilia – is going to be popular again and we expect the many-petalled and absolutely stunning Tree Peony to be the flower of 2014.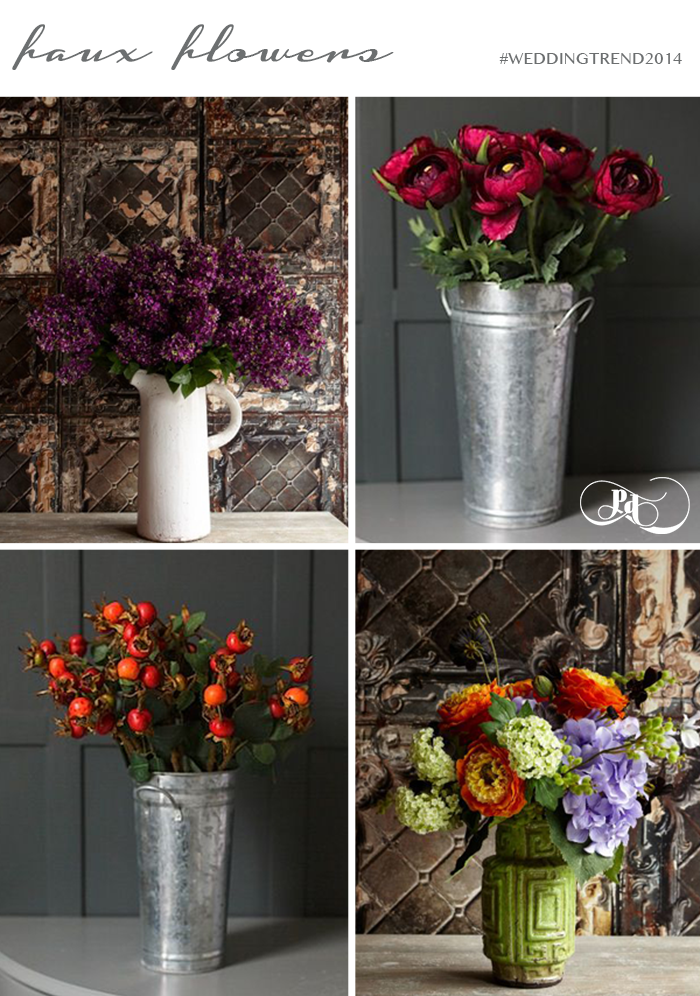 One trend that is guaranteed to filter through from the interior design world is the use of faux flowers, they are a designer's secret weapon, current varieties are so much more chic than their nineties counterparts and something that we've used before to great effect.
There's a sustainability aspect to them as you can keep them long after the day, plus it gives you the chance to have your favourite flower even when it's out of season, we're talking to you, Peony lovers!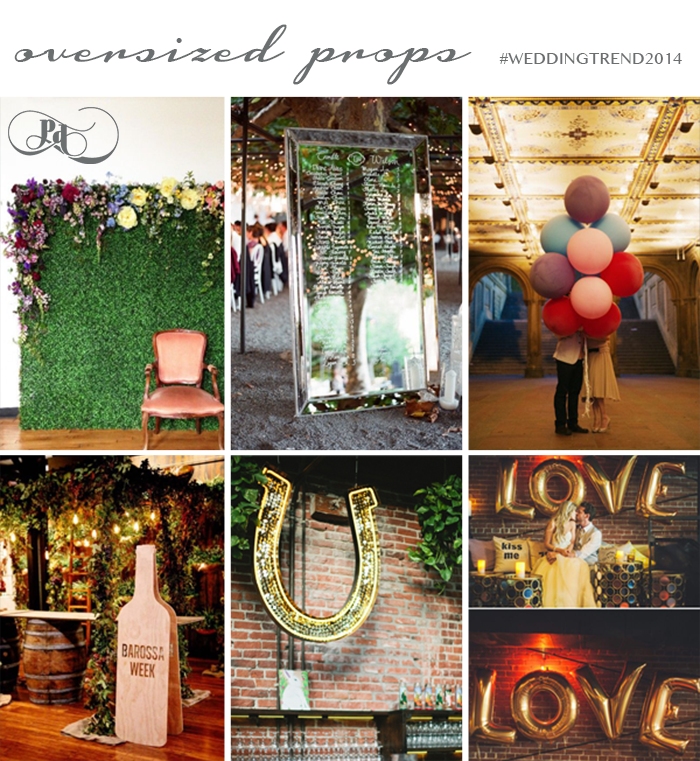 Props & Installations: Go big or go home! Small pieces can really get lost in a vast venue or expansive space so scale it up. The focus is on bold, impactful pieces used in unusual ways, think giant mirrors outside, oversized walk-through frames and doorways as the entrance to your (outdoor) aisle.  Fabulous and fun entrances, neon signage and marquee letters will continue to be popular.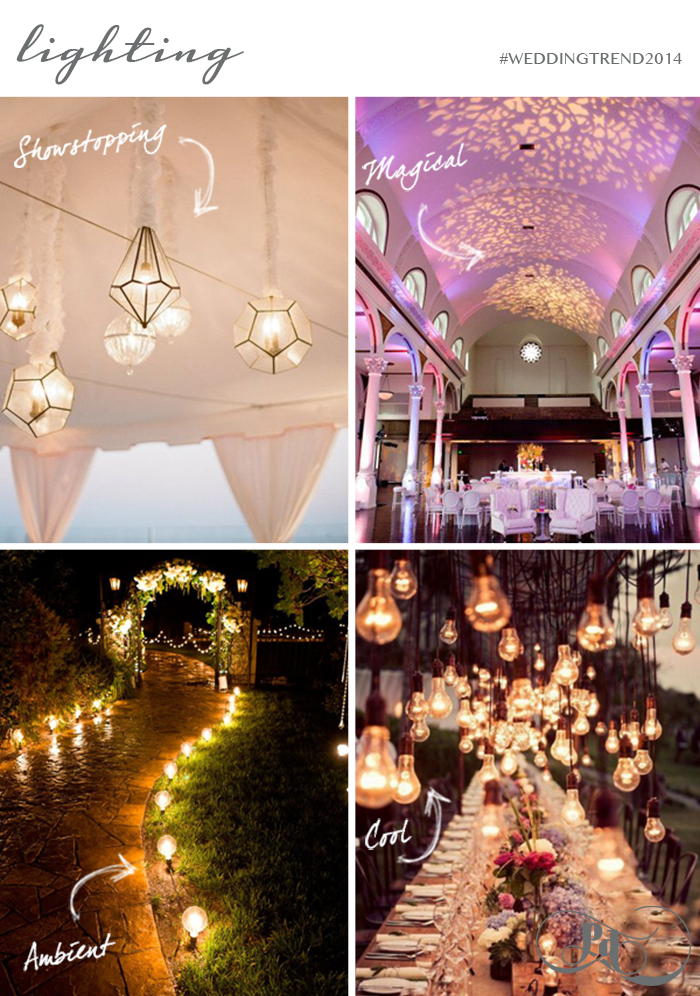 Lighting: This is a key design element to set the tone and ambience, lighting serves much more than just a practical element at any wedding.  Giving consideration to your lighting can help to establish the right mood at different stages of your day and bring your design concept to life, be it a soft, romantic glow, quirky naked bulbs for an industrial event or twinkly fairy lights to entice your guests to break out their dancing shoes.
Chandeliers will continue to be popular as we move towards a more elegant aesthetic, but expect to see them used more creatively and hung from somewhere that surprises the eye such as trees.  We'll also see more industrial style naked Edison bulbs as well as more creative chandeliers, perhaps even handcrafted to really personalise a space.
With an increased focus on taking celebrations outside, outdoor lighting is going to be big, with everything from  sodium lights to enhance established trees with a wash of colour to more delicate strings of festoon and fairy lights wrapped around trees and branches.  Even practical lighting can be made to look beautiful; need to light pathways?  Look to flaming torches.
Gobo projections are a great way to add a fun element to the evening's proceedings and in 2014 there will be a move away from simple monograms to more daring designs such as projected patterns and scenes to create a magical effect on the walls, ceiling and floor of your venue.
Candlelight continues to be so important for creating that romantic subtle glow and is the perfect accompaniment to ceremonies and wedding breakfasts, this is one thing that will not be changing anytime soon.  Votives and the way candles are displayed however are becoming more creative as couples continue to look for more and more ways to add personality and originality into their day.
LOCATION, LOCATION, LOCATION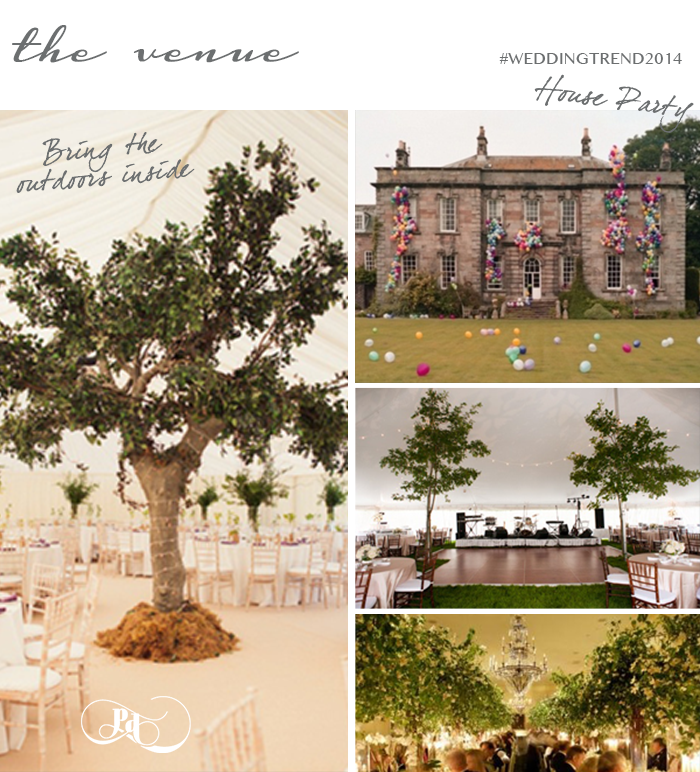 House Parties: 2014 is the year of the house party, and we're not just talking your own backyard, we're thinking more Gatsby, Long Island-style mansion parties, full of shameless and unapologetic abandon and debauchery.
There's an abundance of fabulous houses for hire across the UK just crying out for a great shindig. From townhouses to sprawling country manors, make them yours for the weekend and provide your guests with a riot of entertainment and indulgence from pop-up bars to inventive social dining experiences from the likes of Social Pantry and The Gin Garden.
The Great Outdoors: Getting married outside is still a key desire for many of our couples, be it a family garden or out in the wilderness, people are looking for that fresh-air feeling of freedom and nature.
Of course if you can't actually be outside (because the British weather has other ideas) then look to bring the outside in; trees, plants and foliage as décor all lend an organic and natural feel to a space and can be much more impactful than smaller floral displays alone when you have a large space to fill.
EATS AND TREATS
Always a favourite topic at Pocketful of Dreams, we're delighted to report that according to the New York Times there's a 'gastronimic youthquake' going on!  As food becomes the new Rock n Roll, our clients are seeking to provide their guests with a mindblowing culinary experience over dry chicken and two veg…so what's hot?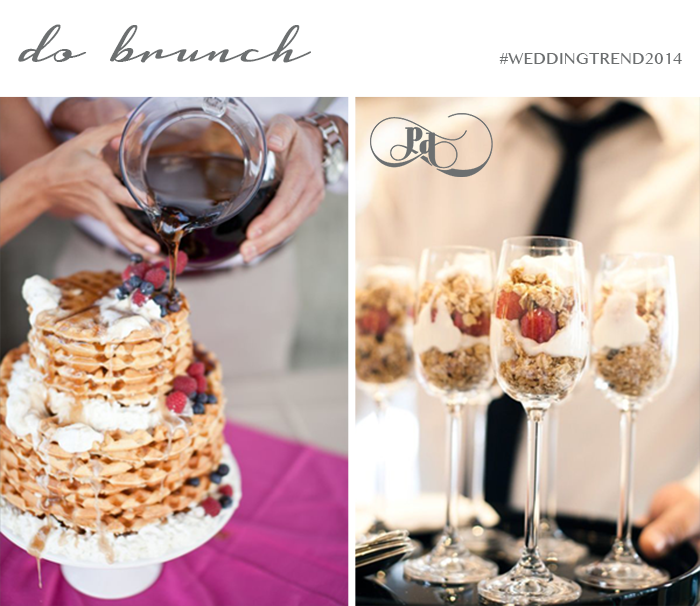 Do Brunch: Like so many things, the concept of brunch is something that has been huge in the US for years but has only really started to catch on in the UK fairly recently but we have a sneaking suspicion we might start to see brunch foods emerging in the wedding food of cool and adventurous wedding couples…it is called a wedding breakfast after all.  Think foods like omelettes, waffles and pancakes and of course, guests can whet their appetite with mimosas and a Bloody Mary bar!  This type of menu would lend itself perfectly to couples looking to have a daytime only wedding with guests sitting down to enjoy their food earlier in the day.
Or if you're more a Full English kinda couple, then embrace your British roots but think about how you could serve this iconic dish in creative ways with a focus on stylish presentation and fresh, locally sourced ingredients.  You could really have fun with this idea, how about serving a dessert that really has fun with the 'wedding breakfast' idea – a real egg shell filled with crème brule and served with biscotti soldiers!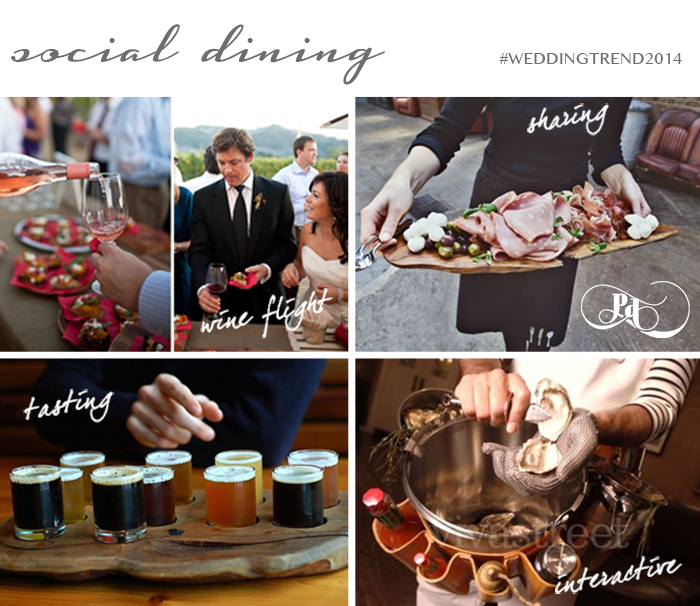 Social Dining: Whatever you choose to serve, guests won't just be passively enjoyed their food but will be allowed to get involved and treated to interactive culinary delights; think  waiters shucking oysters, a guest chosen from each table to act as a server, or a bartender muddling ingredients in front of you to create fresh and sumptuous cocktails.  Tasting stations will be popular, serving everything from tea to tequila and again can act as a great way to reflect the interests and passions of the bride and groom.  One of our couples is even planning a foraging session on the morning of their wedding with elements to be cooked up and tried by guests on the day!
Food trucks and Festival style street food will remain popular with 2014 being the year they really break through into weddings and we expect to see ever more daring and adventurous varieties popping up.  We may even see more BBQ style food being served as smoking is de rigour across the gastronomic world.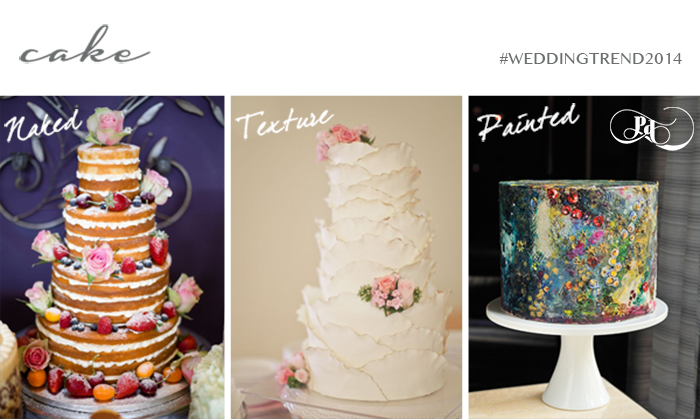 Cakes: Naked cakes were the big news of 2013 and this is one trend we don't see disappearing any time soon – those things are just gorgeous! However, the big news for 2014 is going to be handpainted cakes; truly art forms in their own right, anything goes with this style and gives the opportunity for couples to not only wholly personalise their cakes but actually create their very own piece of art.  Look to highly skilled cake makers like Cakes by Krishanthi for this type of cake which will look too good to eat…almost!
And looking back to textures, we expect to see that trend continuing through into the cake world…we've seen ruffles in the past but this year textured cakes will go one stage further with an array of exquisite fondant frills and rosettes ruffling down, to create set shapes and patterns and even at abstract angles on cakes to create everything from a soft and delicate to a modern and edgy look.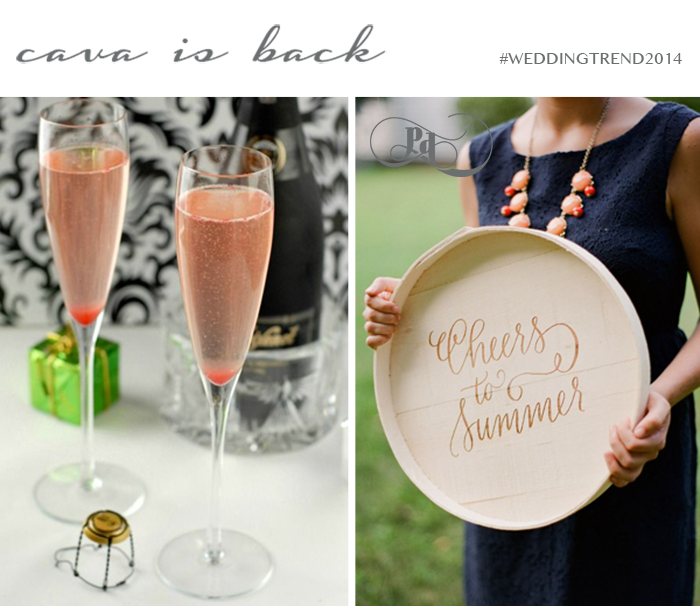 Tipples: Wine or beer flights will be chosen base on significance to the couple, influences might be wineries they've visited, beers brewed in their hometowns or choices evocative of a shared adventure and happy memories. A selection of paired wines served with the wedding breakfast alongside origin education will be a popular choice for many of our couples, with pop-up brewpubs and wine bars expected to be the drink stations of 2014.
And finally…move over Prosecco, Cava is making a comeback darling! Cheers!
Created by wedding planners Pocketful of Dreams, to provide a little inspiration for your party, wedding or event.
Don't forget we offer a design service to wedding planning couples to help bring all that inspiration into a meaningful design concept.  If you're interested in discussing how we can create a unique design concept for your celebration or would like to know more about our wedding design and planning services, then get in touch at hello@pocketfulofdreams.co.uk.
Michelle & Vicki xx
Image Credits:
Moody Blues: Painting,  Ceramics, Lights, Chairs, Tablescape
Turquoise: Chairs, Dress, Party
Braver Palettes: Paints, Ice Cream, Sofa, Pattern
Mixed Textures: Decor, Tablescape
Mixed Metals: Leaves, Maids, Macarons, Balloon
Linens: Sequin, Textured, Floral, Uplit
Transparency: Tent, Plinth, Ghost Chairs With Fur, Tablescape
Floral Prints: Floral Backdrop, Name Card, Dress
Blooms: Gold Vessel, White Bouquet, Assymetrical Bouquet, Bride, Tree Peony, Gypsophilia
Oversized Props: Floral Backdrop, Mirror, Balloons, Bottle, Horseshoe, Mylar Balloons
Lighting: Geometric Lanterns, Gobo Projections, Lit Walkway, Edison Bulbs
The Venue: House,  Woodland Wedding, Large Tree, Tree Lined Dancefloor, Wedding Breakfast
Do Brunch: Waffle Tower, Granola
Social Dining: Pouring wine, Wine tasting, Sharing Platter, Beer Tasting, Oyster Shucking
Cake: Naked, Textured, Painted
Tipples: Cava, Drinks Tray