With our latest series of inspirational mood boards and styling guides for the readers of Love My Dress blog we have a firm focus on Spring Weddings.
As regular readers will know, we're creative wedding planners who like to do things a little differently and hope our styling guides provide you with plenty of ideas for your own celebration.  The way we approach our styling guides for Love My Dress is to take a specific style of venue, from the blank canvas to the urban warehouses to the grandiose hotel, and show how you can create a fabulous wedding day that works with – rather than fighting against – the chosen space.
As we had the official first day of Spring last week, we thought we'd pick a venue that was perfectly suited to this optimistic time of year…something that truly embraced the natural beauty of the season: a botanical garden setting.   And what better example of this than the Garden Museum in London…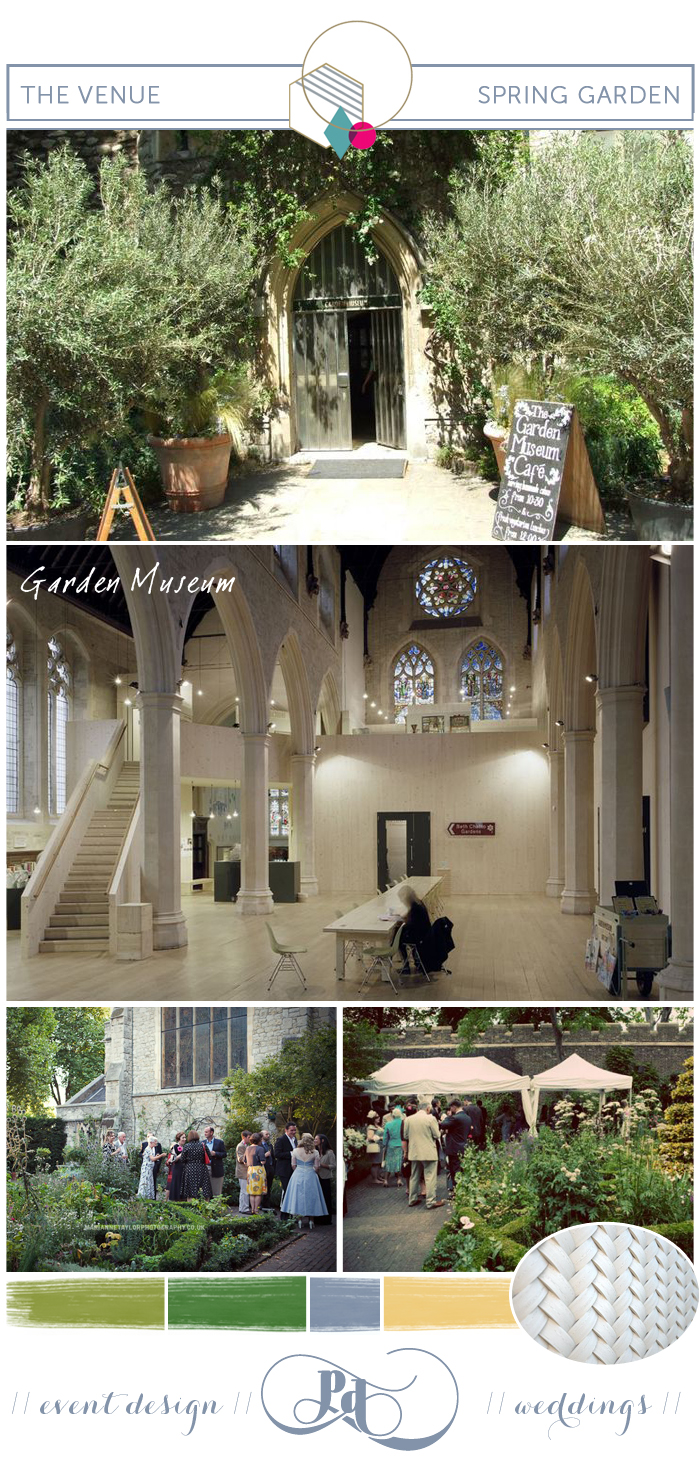 Image Credits: Garden Museum
THE BOTANICAL VENUE
So what is a botanical venue?  Well we're talking any venue where the outdoor setting is really the star attraction; think beautiful gardens that are full of colours, textures and wildlife.  Nothing overly manicured or pristine, more a celebration of nature in its own environment without fuss or fancy.  But of course the Spring months can still be slightly chilly so we wanted our venue to also have indoor spaces  that are equally as impressive. Perhaps with large windows and easy access to the garden space to really maximise the botanical, natural feel of the venue and the day as a whole.
Our botanical venue of choice is the Garden Museum.  A fabulous museum located by the River Thames and with views of the Houses of Parliament no less, it is the only venue that celebrates the design, art and history of gardens.
A lush and beautiful hidden treasure in the heart of London, this venue offers charm and as you might expect, the most exquisite of gardens, the focal point being a 17th century style knot garden that would be a truly romantic setting for your wedding photographs.
Whilst the venue itself isn't licensed for legal ceremonies, it can be hired during the day when the museum is closed to the public and so the gardens could be used for a peaceful and serene blessing.  To truly embrace the garden setting, your wedding reception can be held in a marquee within the grounds or the Museum itself easily seats up to 120 guests for dinner in the main hall beneath the beautiful stained glass windows and medieval architecture.
All in all, a true gem of a botanical venue that is just perfect for today's Spring Garden wedding styling guide…
If you love the idea of having a Spring wedding at a Botanical venue such as the Garden Museum there are are few things that you will want to consider:
Be realistic about the weather –   at this time of year it might look and feel like Summer in the sunshine but it's more likely to feel like Winter still in the shade.  Take that into consideration in your planning; think about the time of day that you're going to be in outdoor spaces and where the sun will fall at that time.  You may want to consider a slightly earlier ceremony to ensure you are outside at the warmest time of the day, position people in the sunshine wherever possible and provide pashminas and blankets so guests can keep warm.  And if you are having your wedding breakfast in a marquee, make sure that you've also booked heaters for use as the evening draws in; the temperature will drop quickly once the sun has set.
It's also worth remembering that you need to consider the weather not just on the day but in the build up; if it's been raining in the weeks leading up to the event then you may need to have matting laid down on grassy walkways to avoid creating muddy pathways and ladies losing their heels in the soft grass.
As professional wedding planners, we always hope for the best but plan for the worst.  Unfortunately the weather is never guaranteed no matter how many sun dances we do, so we always have a back up plan; it makes sense to choose a venue that does have an indoor space for a Springtime wedding – and more importantly, one that you would be happy to use – so that if the worst comes to the worst, you can venture into the dry and still enjoy a beautiful setting.  Having a planner at your wedding day will ensure that decisions regards alternative plans can be made – and more importantly executed – quickly and efficiently without you having to worry about a thing.
If you are planning a ceremony outside, you'll need to think about amplification.  Whilst it may be a small wedding and of course, your guests will be a captive audience during the ceremony, the slightest breeze could carry your voices so it's worth investing in an AV system for the ceremony to ensure that everyone can hear and share in the moment.
From a design perspective, think about how the gardens will  look when you get married: what will be in bloom and how can you work with what is already in the setting?  This will help you to maximise your floral budget more efficiently but also ensures that your design works in harmony with the venue that you've fallen for in the first place.  Also, remember that unless you're visiting your venue exactly one year before your wedding, the gardens may look quite different by the time you do get married.  Ask the venue to provide you with photographs of the gardens from the month that you're getting married, so that you can really visualise how the setting will look on your day.
Other great examples of garden venues include: Kensington Roof Gardens, the Walled Garden at Cowdray, the Royal Botanic Gardens at Kew, The Barbican and the Secret Garden in Kent.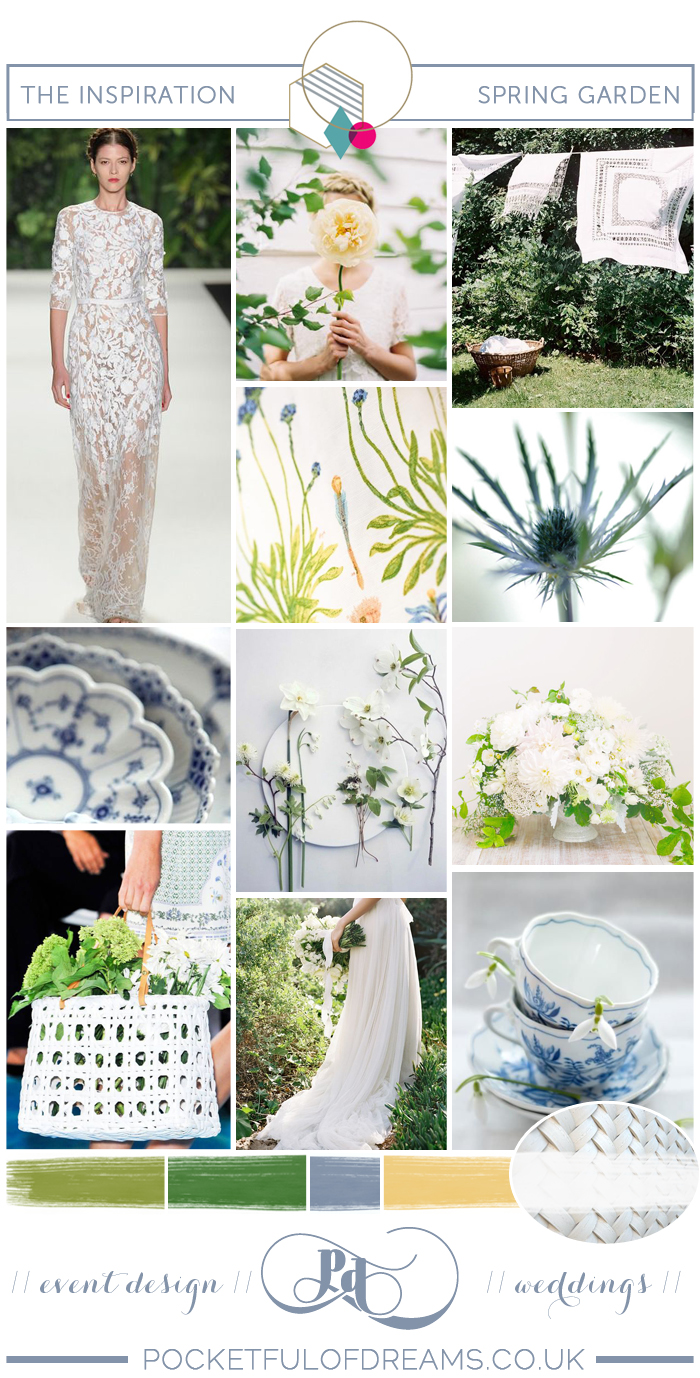 Image Credits: 1. 2. Tinge Floral 3. Tumblr 4. Tory Burch 5. South Dakota Wedding Style 6. Tumblr 7. Crown her Queen 8. Style Me Pretty 9. Elle 10. Reverie 11. Olor a te
THE INSPIRATION
The current changing of the season is the true inspiration behind today's styling guide; after a long and very wet winter, this look is all about celebrating nature with the fresh start and optimism that Spring brings with it. We've used a natural and organic palette of leaf and herb tones, with a delicate smattering of yellow and soft blues to act as accents throughout the day.  With white acting as a grounding neutral that really plays to the purity and innocence of the overall design.
We'd use soft but intricate details such as delicate lace, weavings and trellis to dress the space. Employing fretwork and laser cutting to add interest and texture to natural elements.
We want our day to be green in more than looks, so this wedding is perfect for the more eco-conscious couple, with consideration being given to how we can create a day that not only celebrates but also respects the natural garden environment.  Focus would therefore be given to sourcing decor items that were sustainable and boasted strong eco-credentials, ensuring that nothing was done to damage or fight against the beauty of the natural environment.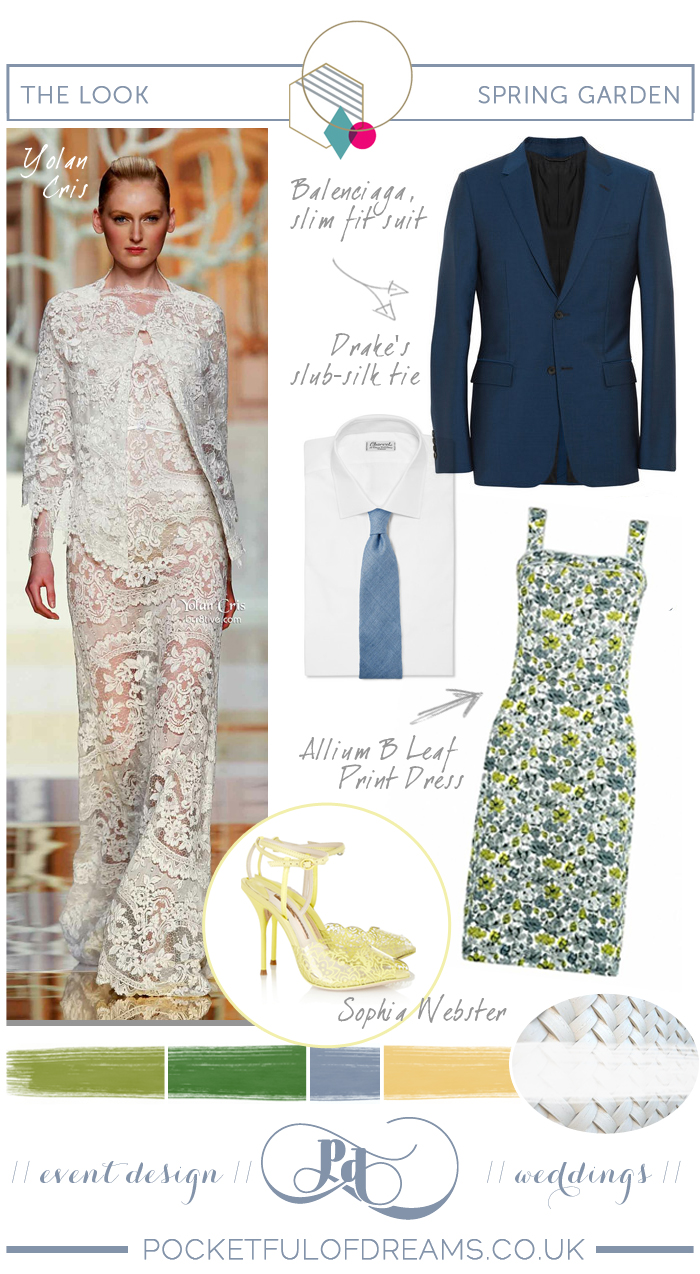 Image Credits: 1. YolanCris 2. Mr. Porter 3. Mr. Porter 4. Atterley Road 5. Net-a-Porter
THE LOOK
Our Spring Garden Bride dreams of a soft and delicate dress to cut a graceful figure.  And we've found the perfect dress from Barcelona based designer YolanCris.  This stunning handmade gown features an intricate lace panel design with just the right hint of sass.  Plus the beautiful accompanying lace jacket provides the perfect blend of style and comfort  – no goosebumps for our bride!
We'd pair this with these beautiful lace-print PVC and leather heels from Sophia Webster in the most delicate of yellow shades that would look oh-so-cute poking out from beneath that lace.  And perfectly complement the yellow tones in the retro-style Allium B Print leaf dress for the bridesmaids.
Wear hair up in a simple low bun to reflect the simple, at-one-with-nature look of the day and to really let that dress shine.  Make up should be dewy and fresh for a polished yet barely there effect.
Avoid too dark or heavy a suit and dress your groom in this timeless Balenciaga slim fit suit paired with a crisp white shirt and this slub-silk tie that brings in the blue tones from our palette.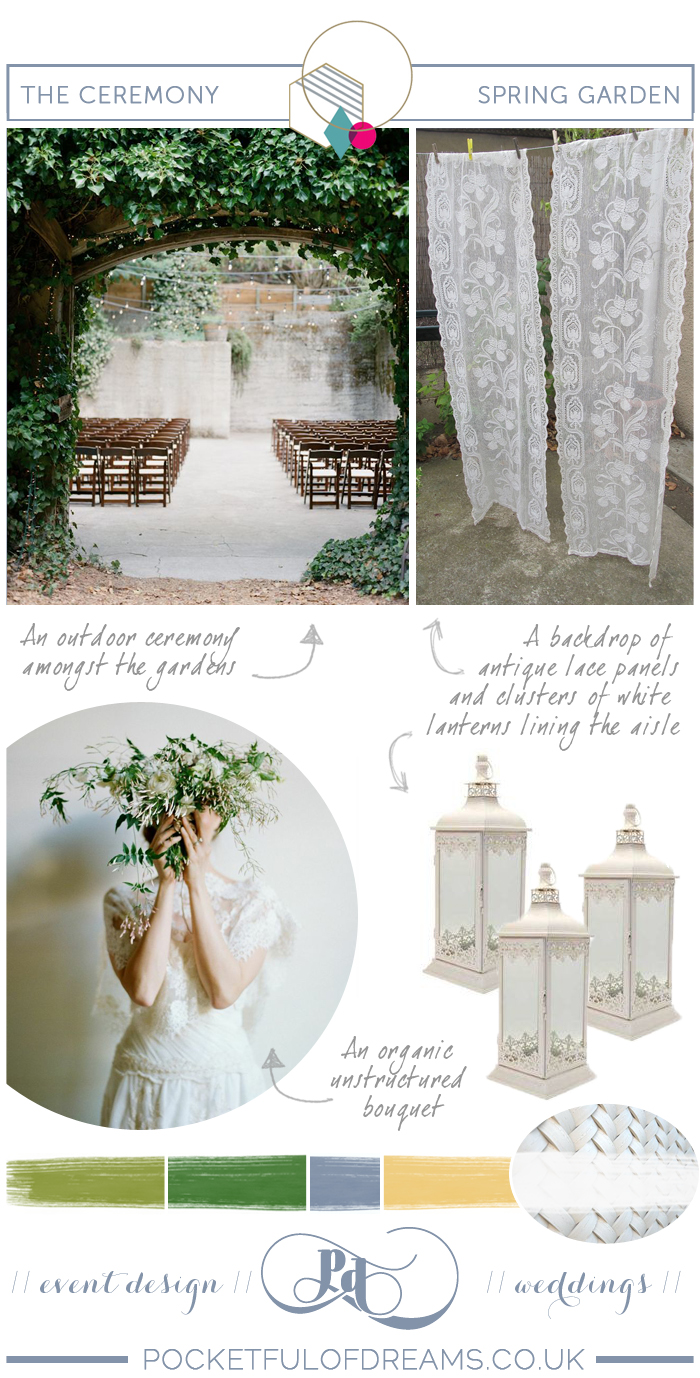 Image Credits: 1. Once Wed 2. Etsy 3. Elizabeth Messina 4. CEN
THE CEREMONY
A garden ceremony in the UK is unlikely to be legally binding, so make sure you get the legal bits sorted beforehand and invite guests to watch you tie the knot in a personal blessing service.
Ideally, we'd look to hold the ceremony outside amongst the gardens to really make the most of the space and look to add decorative touches that complement and enhance the space. Simple wooden folding chairs provide guest seating that is at one with the environment whilst pretty lanterns are clustered together to create an aisle for our bride to glide down.
Our key focal point here would be beautiful antique white lace panels that we would hang from sisal rope between trees and let them gently billow in the breeze, reminiscent of fresh linen.  You can source vintage lace tablecloths from flea markets or why not speak to elder relatives to see what they might have already.  At one of our weddings last year, we used antique tablecloths and doilies from the bride's Granny, which were not only beautiful but added a truly personal depth to the decor.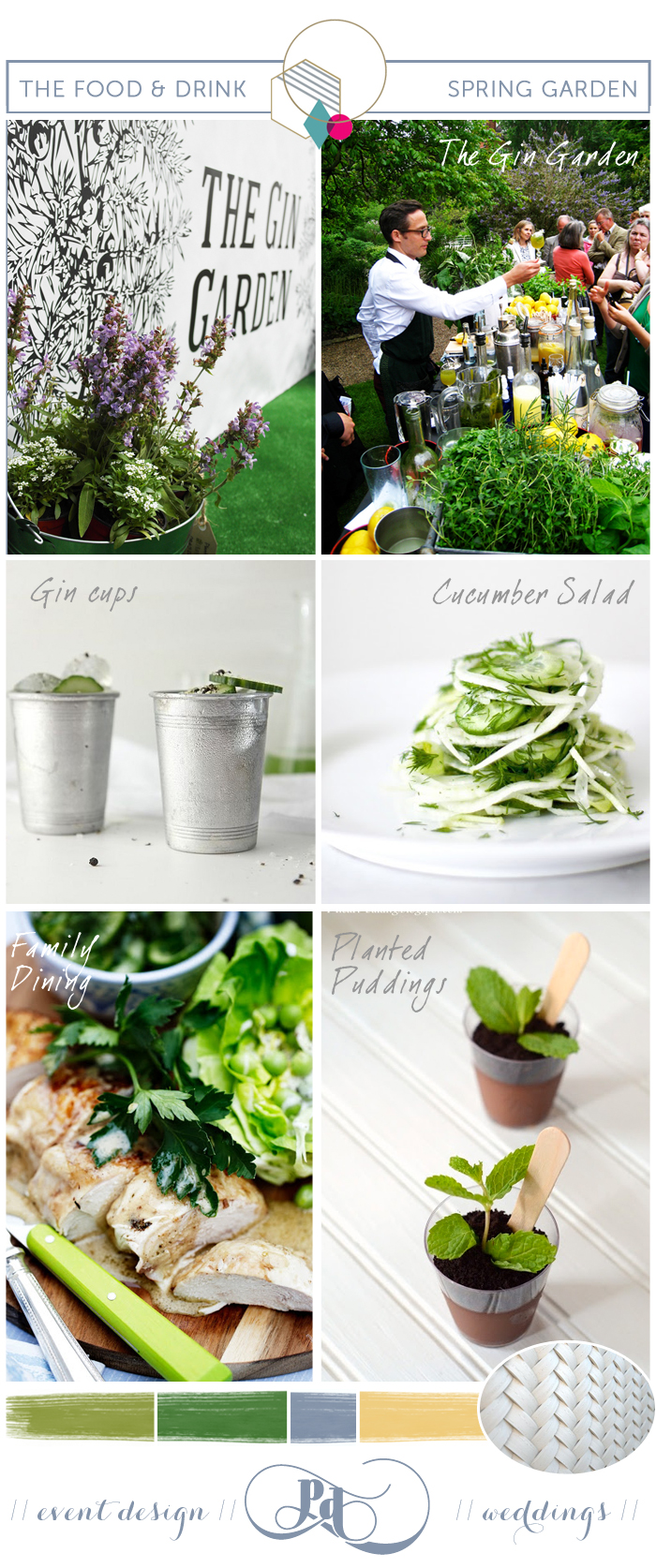 Image Credits: 1, 2. The Gin Garden 3. Joy the Baker 4. Feasting at Home 5. Marie Melchior6. I heart baking
FOOD & DRINK
For the food, we would look to serve seasonal, fresh ingredients all with a botanicals twist.  The Garden Museum has an approved caterer list and we would work with them to ensure that guests could snack on delicious canapés outside in the courtyard in the fresh Spring breeze.
To sit alongside those canapés, we would bring in The Gin Garden; a mobile bar with a difference, they specialise in creating beautiful, seasonal drinks in visually stunning garden environments – transforming any space into a lush oasis, full of seasonal colour and scents.  Gin is the perfect tipple for our Spring Garden wedding as it has a strong botanical twist with varieties of herbs, fruits and flowers used by the Gin Garden to complement the range of flavours available.
Before the temperature drops, we would invite guests to move inside for the dinner service.  Here, we would look to serve a mouthwatering feast perfect for Spring.  To start, we'd suggest a refreshing Shaved Fennel, Dill and Cucumber salad and then for the main course, we'd opt for relaxed, family style dining.  In this environment the staple of the wedding breakfast – chicken – really can be cool again!  Look to have your chicken prepared in fragrant and strong flavours and serve it in interesting ways, presented on appealing platters that your guests won't be able to resist.
And of course, the all important dessert.  Why not have a little fun with your food to really bring to life the garden setting?  Serve a deliciously cheeky mini plant pot to each of your guests – a chocolate pudding with biscuit crumb provides the "soil" and "dirt" whilst a mint leaf tops the dish for the plant effect, all served with a wooden spoon plant label.

Image Credits: 1, 2, 3. Ikea 4. Style Me Pretty 5. Flickr 6. Designed by Pocketful of Dreams 7. Ritzy Bee 8. Elle Decor 9. Coastal Style 10. Fifty Flowers 11. Linda Lum DeBono 12. Flickr 13. South Dakota Wedding Style
THE TABLES
You might have moved inside for the wedding breakfast, but that doesn't mean we want to lose the outdoor, garden feel so opt for refectory style seating at wooden, rustic tables decorated simply with vintage lace table runners.  Opt for simple yet elegant cutlery and crockery with interesting white ceramic serving platters and water jugs.  At each setting, place a simple sprig of foliage or herb to add texture and fragrance to the setting and let guests know where they're sitting with cute wooden signs handcrafted from reclaimed wood.
Keep florals seasonal and look to reinforce the blooms growing naturally in the gardens.  We would work with someone like Jay Archer – who is a recommended supplier at the Garden Museum – and has a strong organic style and real understanding of the natural beauty of uncontrived floral design.  Look to use florals such as sea holly, ornamental cabbages and white viburnum snowballs which are similar to hydrangeas and offer stunning, densely packed florets.  All presented in woven style ceramics and wicker bags.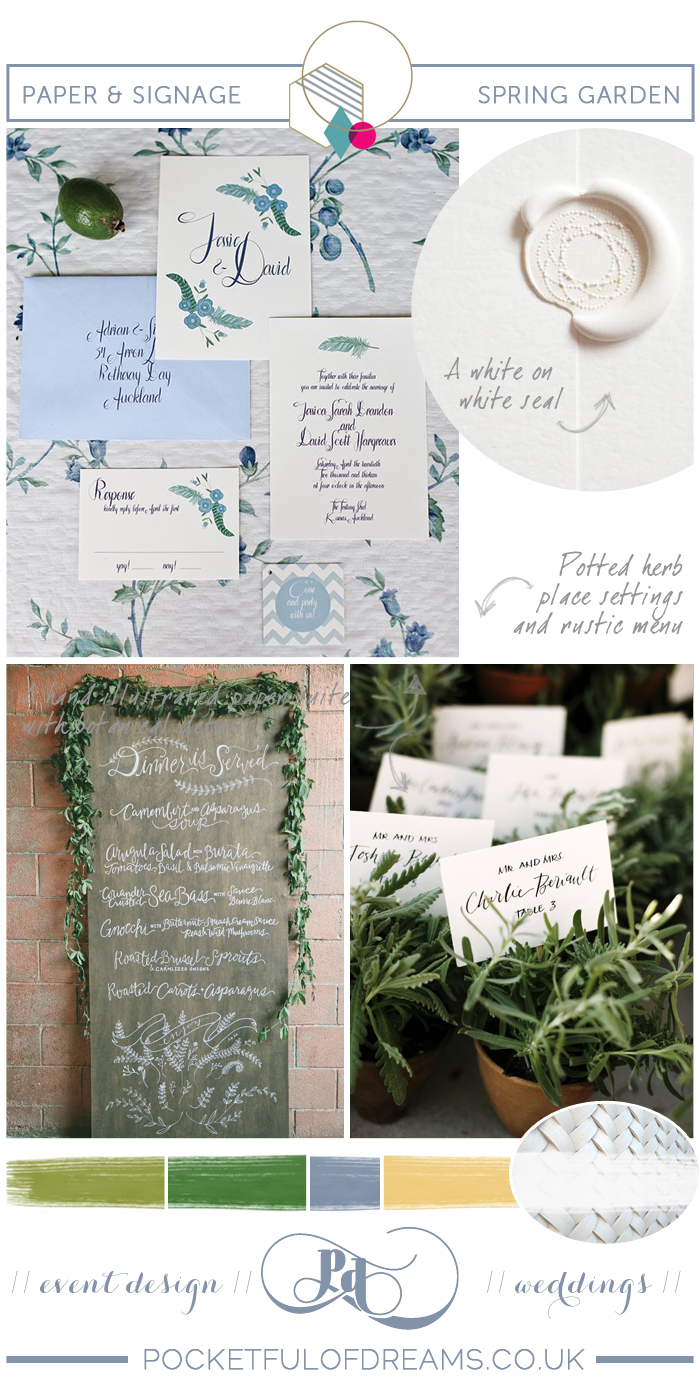 Image Credits: 1. Magnolia Rouge 2. Me and You 3. Style Me Pretty 4. Snippet and Ink
PAPER & SIGNAGE
We'd really show our eco-credentials when it came to the paper and signage for the wedding, ensuring that we used recycled and FSC sustainable paper sources and environmentally friendly inks during the printing process. For invitations, we'd look to work with a modern calligrapher such as Gemma Milly to create beautiful invitations in a scrolling, unstructured style to represent the relaxed beauty of the day. And for that final finishing touch, add a wax seal to the envelopes.  White on white creates an understated but chic effect.
Wedding menus would be presented on oversized reclaimed wooden boards to minimise paper use across the day, using the same calligraphy style from the invitations, finished off with a simple foliage garland.  Place settings could then be nestled amongst potted plants or herbs to create a refined rustic effect that perfectly suits the garden setting.

Image Credits: 1. 2. Tumblr 3. designed by Pocketful of Dreams 4. Teste di legno 5. The Backyard Farmer
THE DETAILS
We would create a living wall to act as a backdrop feature and table plan, with table details inset between the plants, simply calligraphed onto a rough FSC recycled stock.  Continue the botanical feel with a riot of hanging potted plants and vines that would hang from the ceiling to really bring the outdoors in and provide an unexpected twist on the garden look.
And don't forget to think about the practical elements and how you can style these to bring them into the design of your day. An overflowing vintage index card unit will not only look fantastic but could double up as a handy mobile charging unit for your guests…
Our Spring Garden inspiration guide was designed specifically with the Garden Museum in mind, but of course, this look would work for any eco-conscious couple getting married in a peaceful and natural setting at this stunning time of year.  It really is the perfect choice for nature-loving couples looking to create a soft and pretty day that is in perfect harmony with the outdoors.
Michelle xx