Well it's Tuesday morning already – last weekend seems like a distant memory and Friday evening feels like a millions miles away.  But don't despair because we're back to give you the perfect excuse to take a quick break.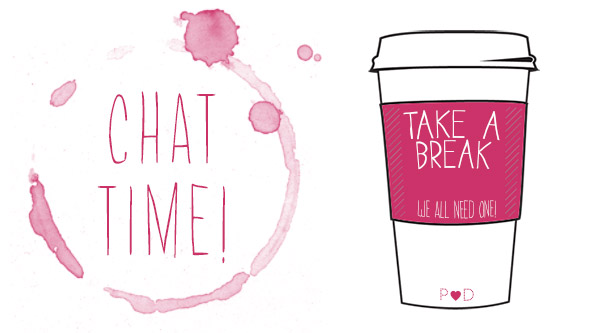 We are on a bit of a mission here at Pocketful of Dreams, to inject a bit of camaraderie into our working week – whether you work from home, in an office or a bit of  both.  So go put the kettle on, make yourself a cuppa and take 5 minutes out of your busy day to join us for a little chat.
This week, we're talking about…cooking for a loved one.
WHAT'S YOUR FAVOURITE MEAL TO COOK FOR A LOVED ONE?
Michelle and I have made no secret of the fact that we are both HUGE food fans.  And for me, this love of food isn't just about great flavours and delicious plates, but about the symbolism and memories associated with food and sharing meals with friends, family and loved ones.  I can still remember the first meal that my husband ever cooked me and I will forever have a special place in my heart for Ben & Jerry's ice cream as it played a key role in our engagement!
There is however one big difference between Michelle and I when it comes to food…she can both enjoy and prepare great tasting food whereas I am a hopeless cook.  It really is pretty embarrassing but in my house I'm not even allowed to attempt cooking anymore after a few disasters including serving cold soup and setting fire to myself….
What I am a big fan of however is baking. The science of baking appeals to me and there is something lovely and decadent about baking cakes for people; if I'm going round to a friend's for dinner, for a party or just if I haven't seen them in a while then I adore turning up with a freshly baked cake, loaf or batch of cupcakes.  My signature cupcakes are carrot cakes (with raisins and chopped pecans) but I recently baked a delicious Golden Apricot and Marzipan Loaf Cake from The Great British Bake Off cook book and it was delicious with some added almonds.   For me, nothing gives me more satisfaction than seeing people enjoy a cake I have baked and I recently treated my husband to some pumpkin and spice muffins, complete with mini marzipan pumpkin decorations!
OVER TO YOU

:  What is your favourite meal to cooked for a loved one?
Do you have a set meal that you just love to cook, perhaps a strong family favourite?  Or like me are you more of a baker?  We'd love to hear from you so do please leave a comment and let's get some discussion going!
Vicki xx